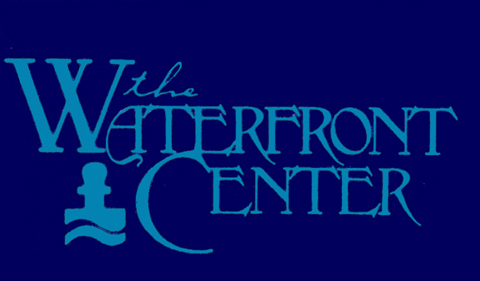 Newsletters
From time to time the Waterfront Center e-mails newsletters. The most recent will be posted here. If you wish to receive these newsletters by e-mail please send your e-mail address to mail@waterfrontcenter.org with a request to be added to the newsletter e-mail list. To be sure that the newsletter is not blocked by spam filters, add the Waterfront Center e-mail address to your e-mail address book.
In the River Action Inc. Eddy Magazine

| | |
| --- | --- |
| February depths of winter: cold, gray and wet. | Ah, but can spring be far behind? |
Interdisciplinary Awards Jury - New Member added
Recently added: Matt Grady, Vice President, Director of Development, Gramor Development, Tualatin, Oregon.
Matt was part of the team who guided the 2020 Excellence on the Waterfront award winner, The Waterfront in Vancouver, Washington. Check out the interactive database
HERE
to learn more about the project or view his presentation
HERE
.
Matt will join Domenica Stasiak, Langan Engineering, New York, New York, jury chair, and Steve Dumez, Eskew + Dumez + Ripple, New Orleans. Louisiana
Take Note: Some Recent Articles of Interest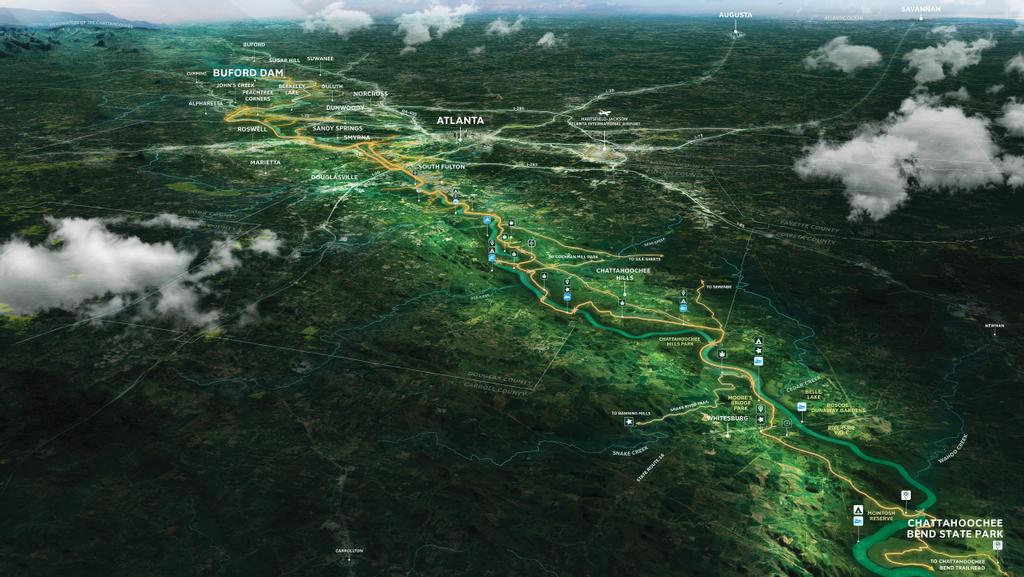 The Chattahoochee River
Reveal the River" by Jonathan Lerner in the January 2121 Landscape Architecture Magazine. (pp. 65-81). See
HERE
. Atlanta may be one of handful of cities that doesn't have a major waterbody flowing through or adjacent to it. Lots of Peachtree Creek references but the major river nearby, the Chattahoochee, is nowhere near the downtown and has received little attention.
That is about to change for this 100 miles of river that borders 19 municipalities in the Atlanta metro area. Thanks to a 1973 protective act, a 2,000-foot buffer preserves the shorelines on both banks. Since the 70's the population has tripled to nearly 3.5 million. SCAPE landscape architecture is undertaking a major study and report, The Chattahoochee River Lands, (available at chattahoochee riverlands.org. Envisioned are about 125 miles of continuous, accessible walking and biking opportunities along with
many recreational opportunities and environmental protections. This amply illustrated article details the many challenges involved in such a bold undertaking.
"Give 'Em the Slip" by Clare Jacobson in th February 2021 Landscape Architecture Magazine (p. 24-25), see
HERE
. A much-needed park has been added near San Francisco's Dogpatch community. Designed by AECOM, the 7-acre park celebrates the industrial past of this patch of waterfront. The centerpiece is an historic slipway to launch boats, two cranes and retained industrial artifacts. Designers had to contend with an intertidal zone, future sea-level rise, an accessible slope to accommodate beach, bike and pedestrian paths. Crane Cove Park as it is called is highly popular and is bracketed by two Excellence on the Waterfront Honor Award winners: Crissy Field (2001, project) and Ocean Beach (Ocean Beach Master Plan 2013). Check them out on the interactive database
HERE
.
May 2021 Virtual Meetings of Note:

Waterfront Aaaliance Conference on a Boat
Groundhog Day 2021 Newsletter
Happy Groundhogs's Day! After an event-filled time over the past 6 weeks including historic, moving moments and equally historic tumultuous ones, February 2, Groundhog Day, as always, offers the promise of spring's arrival.
Before putting out news items we'd like to pause and remember the beautiful tribute to the pandemic victims with that stunning public art installation at the Washington Monument's Reflecting Pool. Water always dramatizes and it was breathtaking as the lights flicked on. The magic of water!
The Waterfront Center commences our 40th anniversary year celebrating waterfronts which is quite a milestone. More on that in coming months.
Excellence on the Waterfront 2021 Awards Program
This year's deadline for submittals is July 15, 2021. Information and entry forms and details will be posted on the web.
Jury is being selected. Thus far, Domenica Stasiak of Langan Engineering, New York will be Jury Chair and Steve Dumez of Eskew + Dumez + Ripple, New Orleans has signed on. Deliberations will take place in early August.
Of interest might be the webinar of the 2020 virtual awards ceremony and winner presentations see
HERE
Also, folks may want to research among the over 400 award winners since 1987 and take advantage of our unique interactive database. It is a trove of information. See
HERE
Carol R. Johnson - 1929 - 2020
The Cultural Landscape Foundation ran an announcement of the death of noted and pioneering landscape architect Carol Johnson on their website (tclf.org.) See " Remembering Carol R. Johnson" or "Carol Johnson's16 Rules."
HERE
. Carol and her firm won an honor award for the Lechmere Canal Park in East Cambridge, Massachusetts in1989.
Lechmere Canal Park in East Cambridge, Massachusetts
USA TODAY Best Riverwalks Contest.
Our longtime board member, Harriet Saperstein of Detroit, alerted us to a fun contest USA Today is featuring on its website: USA Today 10 Best Riverwalks. See
HERE
. About two weeks left to vote for your favorite.
Below is a list and images of the nominees. NOTE: Those with an asterisk have received awards from the Center in the past.
Waterfront aficionados should enjoy looking through the list of 20 projects. See which you are familiar with -- or not, learn about them and then vote your favorite.
San Antonio's Riverwalk or the Paseo del Rio is one of country's oldest designed by the late architect Robert Hugman. Besides the work of artisans on paving and the 20 different bridges, small, colorful barges transport tourists up and down the small waterway. Work begun in the late 1930s and continues today with expansions. The grand old dame was awarded a Center honor award in 1993.
20 nominated riverwalks not in Alphabetical order:
Bricktown, Oklahoma City, OK
Grand Rounds National Scenic Byway, Minneapolis, NN
Idaho Falls River Walk, Idaho Falls, ID
Mississippi River Riverwalk, Dubuque, IA
Smale Riverfront Park, Cincinnati, OH
Trinity Trails, Fort Worth, TX
Canalwalk, Indianapolis, IN *
Charles River Esplanade, Boston, MA
Chicago River Walk, Chicago, IL*
Detroit International Riverwalk, Detroit, MI*
Hudson River Park, New York (portions have received awards)*
Milwaukee River Riverwalk, Milwaukee, WI *
River Street, Savannah, GA*
San Antonio Riverwalk, San Antonio, TX *
Schuylkill River Trail, Philadelphia, PA
Tennessee River Park, Chattanooga, TN (portions have received awards)*
Three River Heritage Park, Pittsburgh, PA
Waterfront Park, Louisville, KY
Waterplace Park and Riverwalk, Providence, RI *
Wilmington Riverwalk, Wilmington, NC
Floating Markets in North America - a Query????
Our longtime board member, Kathy Wine from Quad Cities, sent me the following query?
"Ann, If you know, are there any floating markets (like Xoximilco in Mexico City) in the US?
Thanks so much,
Kathy"
Floating markets can be found around the world but they are less common here in US or Canada. Curious if you know any send me an email at and to Kathy herself at kwine@riveraction.org.
Thanks.
Thanksgiving 2020 Newsletter
Wishing our Waterfront World a very Happy Thanksgiving however we are able to pause and be thankful in these difficult days. For our part we are ever grateful to all our friends and supporters for lo these soon-to-be-40 years.
A reminder that the 2020 awards event webinar is available on the Website. Lots of great work is presented by the winners
HERE
.
For this communique we will focus on public art which has been a subject of great interest to the Center from the outset.
Siah Armajani, public artist 1939-2020
We were sorry to learn of the death of noted public artist, Siah Armajani, an Iranian American, who lived in Minneapolis. At our second international conference in 1984 we had a panel: "What Role the Civic Artist?"
We had recently met Athena Tacha, herself a distinguished artist, and she rounded up two other panelists, namely Robert Irwin and Siah Armajani who enlightened what was a very small crowd. Today would be an entirely different story as a panel on public art would draw a large number. From the proceedings of the '84 annual meeting we offer brief summaries of their thinking.
Athena pointed out that in her view, public sculpture should be all about being used and enjoyed for play, or sitting and other activities. She incorporates steps in many of her installations.
Athena Tacha Installation Green Acres, Trenton, New Jersey
Robert Irwin suggested that the artist's role should be to provide a special way of seeing a city's design opportunities. He went on to say that only after getting a feel for a city should ideas for a particular project be developed, in what should be a cooperative effort among the city, the architect and the artist. Siah Armajani explained that public art should be useful, common, low, near gathering places. The art should be to synthesize the setting and the social history of the place.
Siah Armajani's Bridge Over a Tree, Brooklyn Bridge Park
It should be noted that in the early '80s the National Endowment for the Arts was giving grants to encourage collaboration between architects, landscape architects and artists. One such effort was the World Financial Center Plaza, a major component of Battery Park City in New York. Siah Armajani collaborated with fellow artist, Scott Burton, architect Cesar Pelli and landscape architect, M. Paul Friedman. Siah's work incorporates passages from Frank O'Hara and Walt Whitman celebrating the spirit of New York incorporated in the fencing design.
Siah Armajani's Battery Park Fence
Siah Armajani's NOAA Bridge in the NOAA Western Regional Center, Lake Washington, Seattle
Spotlight on Art from Three 2020 Award Winners
From the modest but very artful work derived from the native American heritage of the Muckleshoot tribe in Tukwila, Washington, to the "Oh Wow!" enormous overhead fiber work in St. Petersburg, to the very large dramatic works found in The Waterfront - a 32 acre mixed-use project along the Columbia River in Vancouver, Wash., the sheer diversity of work found in these winning projects is striking.
The 2020 Excellence in the Waterfront Awards are now on the Waterfront Center website. Recordings of the Zoom presentations by the award winners and PDF files of the presentation materials can be found
HERE
. The 2020 Excellence in the Waterfront Awards can now be found in the Waterfront Center awards search engine, go
HERE
and enter 2020 into the search window. A short movie and text about the creation and structure of the search engine can be found
HERE
. A digital version of the awards booklet can be found
HERE
.
Duwamish Garden Habitat Restoration, Tukwila, Washington
This 3-acre park designed by Jim Brennan, JA Brennan Associates that received top honor was once a degraded landscape. Now restored it provides access to the river both physically and visually. The handsome stonework "wall' offers seating for gathering circles, events and story-telling, while the artwork in the paving depicts the river.
Duwamish Gardens Gathering Circle
Duwamish Gardens Inlaid River Paving
Mike Perfetti of the City of Tukwila offered his thoughts about the project:

"We know from archaeologic evidence that the Duwamish Gardens site was used as a site for food processing; likely here or in the vicinity, people would have built fish and game drying racks of wood to dry salmon, deer, duck or other game; the sculpture is intended to depict that. The sculpture is intended to be an auditory experience when the wind blows, subtly conveying this story of Epic of the Winds. There are laser-cut metal salmon figures also among the chimes to convey the central role of salmon at this site and in this region." One can imagine how enjoyable it would be to sit quietly alongside the river and listen to tinkling of the 'fish' in the wind and learn more about the ecology and culture from the interpretive plaques.

Mike Perfetti and Jim Brennan collaborated on the art for the project.
A link to one version of the story can be found
HERE
The presentation of this project by Jim Brennan and Mike Perfetti can be found
HERE
.
Duwamish Gardens Fish Drying Sculpture
St. Petersburg Pier Approach, St. Petersburg, Florida
Janet Echelman's Bending Arc
As you can see from the photos why we dub this an "Oh Wow" piece. This enormous installation is the largest work of net artist Janet Echelman to date. Entitled Bending Arc, it is the centerpiece of this two-acre project designed by Barbara Wilks, W Architecture and Landscape Architecture. Bending Arc is a reference to Martin Luther King, Jr.'s words: "The arc of the moral universe is long, but it bends towards justice."
Janet Echelman's Bending Arc
The Waterfront, Vancouver, Washington
The Waterfront, Vancouver
About eight years ago we did some consulting work with the city of Vancouver and visited the "before" version of this remarkable
transformation. At that time the 32-acre, once industrial site was quite forlorn. So when we opened up the award submittal it was another one of those 'Holy Smokes' moments.
Larry Kirkland's Grant Street Pier
Public artist Larry Kirkland's Grant Street Pier is the dramatic focal point of the project both during the day and at night. If juts out 90 feet offering breathtaking access to and over the Columbia. The steel sculptural feature is meant to evoke the billow of a passing sailboat. Visitors can examine drawings of early sailing ships and working drawings of pier construction.
Larry Kirkland's Grant Street Pier at Night
Kirkland also designed the Columbia River water feature, Headwaters Wall, working with John Grant who built the fountain itself. One of my pet peeves is when fountains installed in public parks warn: Look but do not touch or play or whatever. This is the opposite of that and invites folks to come on and enjoy.
Larry Kirkland's Headwaters Wall
Besides the public art installations. a large concrete roller and gears once used in the papermill, industrial artifacts retained and exhibited to celebrate the industrial heritage of the area.
October 2020 Newsletter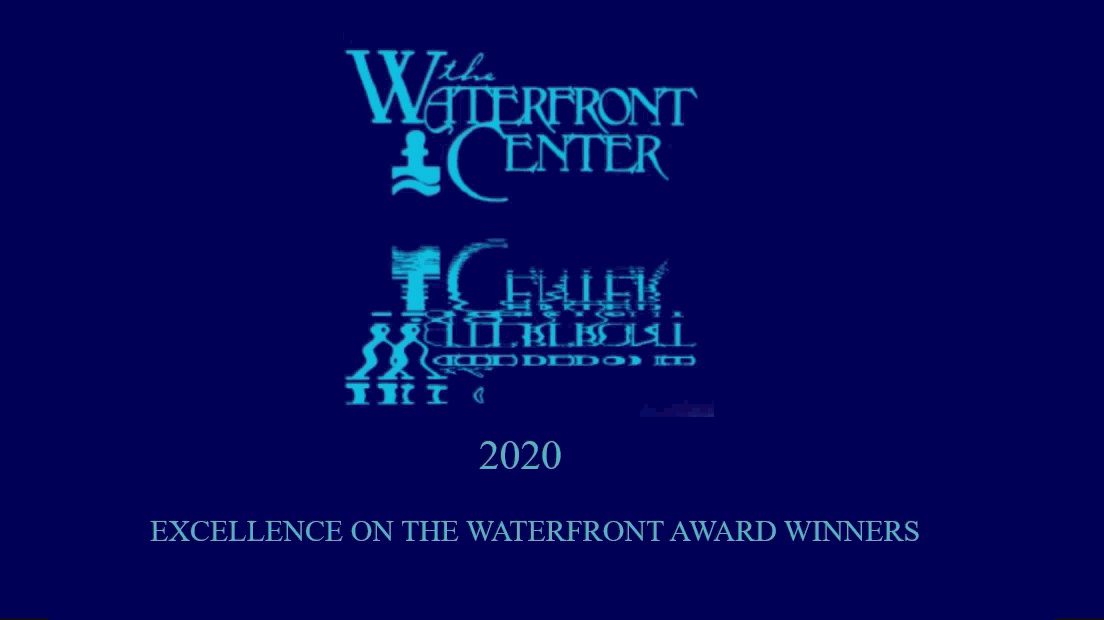 Click on the image above to see a short movie
about the virtal awards ceremony
The Waterfront Center invites you to A Virtual Ceremony to present the winners of the 33rd Excellence on the Waterfront Awards Program
Every year since 1987 the Waterfront Center has invited applications for awards in the Excellence on the Waterfront program. This program is designed to find the best in contemporary waterfront planning and design and to recognize and promote the winning applicants.

In previous years the winning applicants met in person at a ceremony to receive their awards and to present the winning projects and plans. This year, because of the Corona virus, the awards ceremony will be virtual, an online webinar of two sessions, October 20-21, 2020 from 5:00 to 6:30 pm.
If you would like to attend this virtual ceremony click
HERE
to register Click "Select A Date" and follow the prompts.
The Waterfront Center Wishes to Acknowledge and Thank
Linda and Michael Krieger, Mahwah, New Jersey
Pittsburgh History and Landmarks Foundation, Pittsburgh, Pennsylvania
Harriet and Al Saperstein, Detroit, Michigan
The Waterfront Center, Washington, District of Columbia
Chris Carlson and Steve Durrant, Seattle, Washington
Charlotte DeWitt, International Events, Boston, Massachusetts
Langan Engineering & Environmental Services, New York, New York
Virginia McLean, Memphis, Tennessee
Diane and Charles Norris, Norris and Norris, Cambridge, Massachusetts
Kathy Wine, River Action, Quad Cities, Iowa and Illinois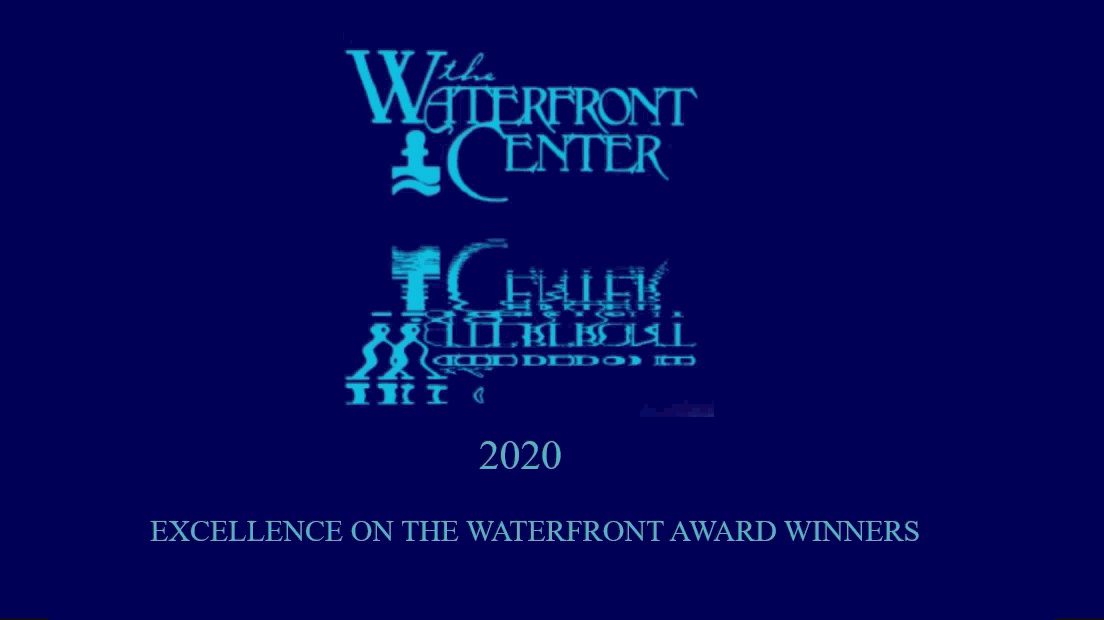 Announcing the 2020 Excellence on the Waterfront
Top Honor Project and Top Honor Plan Award and Honor Awards for Six Projects and One Plan
A hallmark of the Center's awards program is the makeup of the jury members who have different backgrounds and expertise which once again enriched the discussions held over the two-day session via Zoom August 14 & 15. Our 2020 Jury is as follows:
| | | | | | |
| --- | --- | --- | --- | --- | --- |
| | Michael Sriprasert, president, Pittsburgh History and Landmarks Foundation, Pittsburgh, Pennsylvania, Jury Chair, joined the group from Pittsburgh. | | | Rod Marler, principal, Warren & Mahoney, Auckland, New Zealand beamed in from lockdown in Auckland | |
| | | | | | |
| --- | --- | --- | --- | --- | --- |
| | Domenica Stasiak, senior project manager, Langan Engineering, New York, New York was with us in person in Cape May, New Jersey | | | Stewart McKenzie, senior associate, Environmental Design Associates, and our very own webmeister orchestrated the virtual meeting from his home in Somerville, Massachusetts | |
| | |
| --- | --- |
| Co-directors Breen and Rigby followed the lively give and take offering information on facts. They are never involved in the decision - making. | |
The 2020 Excellence in the Waterfront jury Zoom meeting
TOP HONOR AWARD – PROJECT
Duwamish Gardens Habitat Restoration, Tukwila, Washington
Submitted by Jim Brennan, J.A. Brennan, Seattle, Washington and
Mike Perfetti, City of Tukwila, Washington
A Vision for Buffalo Bayou East – Master Plan, Houston, Texas
Buffalo Bayou East – Master Plan
Submitted by Anne Olson, Buffalo Bayou Partnership and
Michael Van Valkenburgh Associates, Brooklyn, New York and
HR&A Advisors, New York, New York
Clippership Wharf, East Boston, Massachusetts
Submitted by
Robert Adams, Halvorson| Tighe & Bond Studio, Boston, Massachusetts and
Nicholas Iselin, Lendlease Corporation, Boston, Massachusetts
Inter-Tidal Pool at Roberto Clemente State Park, Bronx, NY
Inter-Tidal Pool at Roberto Clemente State Park
Submitted by Molly Bourne, Mathews Nielsen Landscape Architects, New York, New York and
Leslie Wright, New York City Regional Director, New York State Office of Parks, Recreation and Historic Preservation
Saluda Riverwalk, Columbia, South Carolina
Submitted by Mike Dawson, River Alliance, Columbia, South Carolina and Will Schenk, EngenuitySC, Columbia, South Carolina
St. Petersburg Pier Approach, St. Petersburg, Florida
St. Petersburg Pier Approach
Submitted by
Barbara Wilks, W Architecture and Landscape Architecture, Brooklyn, NY and Raul Quintana, City of St. Petersburg
The Waterfront, Vancouver, Washington
The Waterfront, Vancouver
Submitted by
Matt Grady, Gramor Development Inc. and
Julie Hannon, City of Vancouver, Parks & Rec., Vancouver, Washington
HONOR AWARD – PLAN
Plan: Wayzata Lake Effect Park - Comprehensive Plan, Wayzata, Minnesota
Wayzata Lake Effect Park - Comprehensive Plan
Submitted by Mark Johnson, Civitas, Denver, Colorado and Mark Johnson, Civitas, Denver, and City of Wayzata,Wayzata, Minneapolis
| | |
| --- | --- |
| | Jeff Dahl, Wayzata City Manager |
To recognize volunteer, grassroots waterfront work
Friends of the Chicago River
River Day Volunteers, Chicago, Illinois
Friends of the Chicago River
Submitted by Metropolitan Water Reclamation District of Greater Chicago
Friends of the Chicago River – River Day Volunteers
Formal Announcements and Presentations
The Center and Jury Members will be working on a Webinar to announce formally the winners and offer presentations by the winners showcasing their work. We will announce the dates for the Webinars on our Website and through these Newsletters.
GREAT AMERICAN OUTDOORS ACT PASSED
Great American Act Passed

What wonderful news for our parks and public lands that the Great American Outdoors Act was signed into law providing $900 million in permanent and dedicated annual funding for the Land & Water Conservation Fund and money to address the backlog of maintenance.
CONFERENCE/MEETING UPDATES
The American Society of Landscape Architects has cancelled it 2020 annual meeting that would have been held in Miami Beach October 2 -5. Answers about any logistical questions about refunds and the like can be found on
https://www.aslaconference.com/
.
Upper Mississippi River Conference
River Action of the Quad Cities of Iowa and Illinois made the difficult decision to forgo their in-person conference scheduled for October 6-8, 2020 and will offer instead a series of 50-60 minute Webinars featuring some the planned speakers at $10 per session or three for $25. See more detail
HERE
.
Waterfront Alliance's Heroes of the Harbor
This event scheduled for October 4 from 6-8 o'clock will be virtual rather than in person. Visit #HeroesofHarbor. You can register for the event
HERE
City Parks Alliance Greater and Greener Conference
2020 Excellence on the Waterfront Awards Deadline
July 15, 2020
We encourage you to take the next month to gather your visuals and other materials to submit to this year's program -- our 33rd. So much good work is going all over, we want our jury to have a great selection to go through. This year most of the jury deliberations will take place virtually - a new experience for us all. We certainly will miss the back and forth going on around a table.
1999 Interdisciplinary Jury deliberations in Cape Cod. Seated around the table: the late Jane Thompson, Thompson Associates, Boston, (orange shirt);
Diana Talty, Darling Harbor, Sydney, Australia, ; Harriet Saperstein, Detroit Dept. of Recreation; Diane Cho, Cho Wilks Benn, Baltimore and the Honorable Helen Cooper, Kingston, Ontario, Canada at the end of the table. Affiliations as of 1999.
Additional time. Several folks have asked for additional time as they could not get to their site to finish their photography due to the virus. Just let us know by email or (202 256 1263) and we can give you a date. However, we need the submission forms and other materials to set up the databases for
the jury. The jury deliberations will take place mid-August and winners will be notified promptly.
Alas there will be no class photo of the winners and no festive gala dinner. However, we will conduct the awards ceremony virtually and hope to have all the winners present their projects or plans via Zoom or other techniques.
We are targeting a date in late September to have this go on line. We will notify everyone and also post all info on the web.
2018 Excellence on the Waterfront Award Winners
The Waterfront Center is known as an independent entity and the judgments made by its annual interdisciplinary juries are recognized as unbiased selections of merit. The awards are increasingly sought after and prized, meaning that the entries are generally of the highest caliber.
Between 1987 and 2019, the Waterfront Center will have conferred over 400 awards. An illustrated booklet of the awards has been prepared since 2004 and is highly valued. Additionally, descriptions and illustrations of the awards made from 1987 through 1981 are contained in a book entitled WATERFRONTS: Cities Reclaim Their Edge.
In recent years award-winning projects, plans, student work and citizen efforts have been posted on the Center's website
HERE
and
HERE
and most of the awards since 1987 have been collected in a searchable database. Each award in this database has images, a project description, jury comments and the winner's contact information. The background information on this searchable database can be found
HERE
. Queries can be entered
HERE
. A movie describing the origin and use of the database can be viewed
HERE
The Waterfront Center believes that this outstanding collection of exemplary waterfront projects and plans plus citizen and student work that is freely available worldwide – a database without parallel.
Late May 2020 Newsletter
34th Annual Excellence on the Waterfront Awards Program

The Center will conduct the awards program this year. Details are on our website
HERE
.
We will grant extensions to those who need more time to complete their photography should sites be closed due to the virus. However, we would like to have people fill out the forms and send what info they have like the two page summary in order that we can put together the data base of names, project and other information for out files and the jurors. Deadline July 15, 2020.
All or parts of the deliberations will be done virtually. Some jurors may be able to be on hand but others may not. Winners will be notified before Labor Day. While we will not be having the conference in Detroit in September 2020, we plan to have a virtual ceremony in September to let everyone know who the winners are and maybe skype or zoom short presentations.
Details to be worked out. The awards booklet we, with the help of Chris Carlson and Steve Durrant, have put out since 2004, will be published in the fall of 2020.
The Waterfront Center Awards Booklets
The Intertwine Alliance Seeks Executive Director
The Intertwine Alliance is seeking a new executive director. The Intertwine Alliance (TIA) is a coalition of 150 nonprofit, public and private sector partners working to ensure access to nature for all communities across the Portland-Vancouver region.
Full job announcement is
HERE
ASLA is forging ahead with their annual meeting. Two panels of interest: "Are We all in the Same Boat: A Waterfront Resilience Boat Tour" and "on the Front Line: Waterfront Parks as Resilient Infrastructure."
Note: If ASLA cancels the conference they will fully refund your entire registration. If you cancel only the basic registration fee minus $100 will be refunded. Cancellations must be received on or before August 10. Rates vary from $675 - $900.
Milwaukee's RiverWalk Expansion
Milwaukee's RiverWalk has been underway since the late 1990's and provides terrific access to the river.
The first phases of the downtown RiverWalk received an honor award in 1998 and another for the Historic Third Ward section in 2005 including public art by Mary Miss. Visiting the
website
gives a peek at what other additions have have been made including handsome design detailing.
The new planned extension is being designed by Site, a Chicago firm and Baird & Associates and will take the walk from the Historic Third Ward to Bay View.
River Action's
Eddy magazine
if always full of what's going on in the Quad Cities.
You might want to become a member and get a subscription Link
HERE
.
The May/June/July issue has some fun things including announcement of the
2020 FLOATZILLA
event August 15 - billed as the biggest and most acclaimed padding event on the Mississippi. Early registration is June 10.
Kathy Wine, executive director, has been sponsoring a June Ride the River event for decades to raise money for the Quad City trails along the Mississippi. The initial 2 miles of trail has stretched to 20.
This year the group has added a month-long event: "
Ride and Seek
." It is envisioned as a month-long event, providing a challenging touchless family scavenger hunt, all in keeping with advised social distancing.
Each rider will receive 36 clues. Details will be announced soon on their website. Sounds like a really fun and imaginativeidea.
May 2020 Newsletter
What a sad and difficult time for everyone. We hope this blast finds you and yours safe and well. We have delayed being in touch because we were trying to make important decisions related to the Conference and Awards.
Urban Waterfronts 2020 Postponed
Dick and I have, after serious consideration, decided it would be wise to postpone the conference until 2021 - perhaps the same September time frame. Not only is there a serious issue with a possible virus uptick this fall according to the scientists, but the economic crisis is truly severe. The more we thought about our attendees, the more we were convinced that with layoffs, furloughs and huge drops in revenues, the consulting firms, engineers, non-profits, local and state officials and others probably would
not be able to come. So with the realization that our attendance would be way off, we think the wiser course of action is to postpone. We hope you understand and agree with us. Stay tuned for information about Detroit in 2021. We had started to put together a terrific programs and fun socials. We'll work hard to make 2021 the best yet!
We plan to go ahead with the awards program even if we have to do it electronically. So the jury may have to meet on Zoom in August. Then in September we would propose to have a ceremony via Zoom or Skype (we'll figure this out in detail later). We would also like to do a short promotional video about the 2021 conference in Detroit.
IMPORTANT PROVISION due to Coronavirus. We received an email bringing to our attention that there may be a problem for some to get images of their projects, especially if the park or public area is closed. The official deadline us July 15. If you need to get an extension in order to get images,
e-mail or call us and we can give you until August 10. However, if you could submit an imcomplete submittal this would help immensely with our record-keeping and preparation of the materials for the Jury,
The Waterfront Center 2018 Award Winners
Chris Ward, board member of the Alliance has posted the following: "First and foremost, I want to commend Roland Lewis on 13 stellar years of service as the organization's first President and CEO. We are enormously grateful for Roland's leadership. With great expertise and tireless work, Roland quickly built an idea into a vibrant organization, and a game-changer on regional waterfront issues. We wish him the best in his new challenge. We will take time when we can gather again to mark together his many contributions and celebrate his service to the Waterfront Alliance.
Second, I want to provide you information regarding the Board's confidential process going forward to identify the next great leader of this organization. We have formed a search committee to assist the Board in its selection. Please view the job posting and encourage qualified candidates to apply. All inquiries will be held in strict confidence. Go
HERE
to the Waterfront Alliance
We wish Roland all the best in his next Chapter.
February 2020 Newsletter
Excellence on the Waterfront Awards Program
34th International Conference Detroit, Michigan
Mark you calendars: Spotlight on the Detroit Riverfront
Wednesday September 23 (optional get-acquainted dinner) We have booked Sinbad's, a fun spot with a room overlooking the Detroit River for folks to start networking. Transport from the hotel will be provided.
Thursday, September 24. All-day workshop with a morning session of talks. A continental breakfast and lunch will be provided.
An afternoon bus tour will include a complete riverfront tour with stops at specific sites along the way where you can take pictures and be briefed on the projects. The tour will end - where the riverfront renewal began 40 years ago at Hart Plaza with its centerpiece Noguchi fountain. Walk or return to hotel by bus.
Noguchi fountain in Hart Plaza
34th Annual International Conference
Thursday September 24. Welcome Reception at the Westin Book Cadillac followed by an optional dinner at Andiamo in Renaissance Center.
Friday, September 25. Conference with keynote speech, and two con-current panels, lunch and the 2020 Awards presentation ceremony and reception concluding the day. An optional gala dinner in the hotel should be a festive Friday night.
Saturday, September 26. Morning panels and a concluding plenary. Afternoon tours to Windsor, Ontario (passports required) and the International Wildlife Refuge will be optional extras.
Detroit River International Wildlife Refuge
Waterfront Alliance Annual Conference
2020 Rising to the Challenge
A path forward on climate adaptation and resilience. May 12, 2020
Upper Mississippi River Conference
13th Annual Upper Mississippi River Conference
Quad Cities of Iowa and Illinois October 6-8, 2020
The Cultural Landscape Foundation Announces
Cornelia Hahn Oberlander International Landscape Prize to elevate
the art and profession of landscape architecture. Starting in 2121,
the award will be given every other year with a $100,000 prize to recognize
a living practitioner. See etails
HERE
John Beardsley will head up the Foundation's newest program. John gave a keynote address at our second annual waterfront conference in 1984 on waterfront public art. He is the author of Earthworks among other books.
Rails to Trails Winter 2020 Issue
You might want to check out "The Way Forward: Milwaukee County's Oak Leaf Trail" by Cory Matteson. See article
HERE
The 125-mile trail connects the county's neighborhoods, green spaces and cultural features.
rtc.li/Oak-Leaf-Trail includes map.
Also: "Trails Forecast: Resiliency and Repair," by Scott Stark. Trail managers are facing increasing
flooding and other natural disasters. This article tells a few stories of disaster and recovery including:
• Nebraska's Cowboy Recreataion and Nature Trail that has more than 200 bridges along its entire length.
• Missouri's 240--mile Katy Train suffered from severe flooding that caused major economic hardship.
• Mississippi's Tanglefoot Trail a 44 mile trail goes through the foothills of the Appalachian Mountains experienced major spring rains that wreak havoc.
• Texas's Bayou Greenways require major investment for routine cleanup. The flood control district spent
$1.3 after Hurricane Harvey.
The article also quotes Ning Lin, a professor of civil and environmental engineering, saying that 100-year floods could become an
annual occurance citing a recent Princeton University study.
St. Patrick's Island, Calgary, Alberta, Canada
St. Patrick's Island Calgary
The January 2020 issue of Landscape Architecture Magazine has an excellent, fulsome takeout on this recent Excellence on the Waterfront Center-award winning project: "No Plan is an Island," A Flood Friendly Park Re-creates a Resilient Landscape in Calgary's Bow River, by Brian Barth.
St. Patrick's Island Calgary
This park originated as part of plan to revitalize the East Village neighborhood in Calgary,Alberta, Canada once a frontier outpost, that had fallen on hard times including a sizable homeless population. Calgary Municipal Land Corporation was established in 2007 as the redevelopment agency to create a master plan for improvements to the area. The 2010 master plan that was developed envisioned basically turning the neighborhood around and not to mince words: to gentrify the area. That is part of the back story. In 2013 catastrophic flooding caused millions of dollars of damage and inundated St. Patrick's Island in Calgary's downtown core. Barbara Wilks (W Architecture + Landscape architecture) and Mark Johnson (Civitas) - both Excellence on the Waterfront award winners - were involved in designing a 31-acre park on the Island. They took on the challenge of working with the river to achieve resiliency as well as provided lots of recreational opportunities for the citizens of Calgary. The article's author Barth comments that the "Island, intentionally or not, seems to have struck a balance of creating a welcoming environment for the public while avoiding a heavy-handed approach toward people experiencing homelessness." The park is densely forested providing a lush habitat and a form of erosion control. The forest and the many plantings throughout the island were extremely important to the designers. This beautifully illustrated piece has not only photos but drawings, diagrams and the planting plan.
A recent Washington Post article (Tuesday, February 18, 2020 p. E2) "Bottled water war (see article
HERE
): States seek to curtail firms in tapping local groundwater" by Alex Brown takes on the issue of bottling companies tapping spring-fed sources. The call to reduce plastic in our environment has been sounded for some time now. Single use plastic bags have been banned in so many communities and cloth shopping bags a common sight. Restaurants are using recyclable containers for take out or take home. Folks are buying their own cups for water and coffee. A campaign to to take a pledge not to drink bottled water was launched a number of years ago. So this article that details states that are introducing bills to restrict the bottling of groundwater or tax the industry is most timely. To quote a specialist from the environmental group Food & Water Watch: "As water scarcity is becoming a deeper crisis, you want to protect your local water supply so it goes for local purposes. [Bottled water] is not an industry that need to exist." We were surprised to read:
• Two-thirds of bottled water sold comes from municipal tap water.
• American consumed nearly 14 billion gallons of bottled water in 2018.
• Bottled water sales are expected to grow to more than $24 billion in the next three years.
The article goes on to describe state and local efforts to reign in the bottling industry including communities opposed to the construction of large factories. The battle between those concerned with the environmental and land use impacts of the bottling companies and the companies themselves including the International Bottled Water Association will continue on. In any event, it is an awful lot of toss away plastic bottles much ending up in the oceans. While bottled water can save lives in places like Flint or areas affected by disaster, it still gives one pause: most of us can grab a glass and turn on the tap. This will be an ongoing conversation.
The sea polluted by water bottles.....
.....as far as the eye can see
Late November 2019 Newsletter
2020 Excellence on the Waterfront Awards Program
The 2020 Interdisciplinary Jury

A hallmark of the Center's awards program is the makeup of the jury members who have different backgrounds and expertise which enriches the discussions over the two-day session to be held in Cape May, New Jersey, in mid-July, 2020.
Michael Sriprasert, vice president, Pittsburgh History and Landmarks Foundation, Pittsburgh, Pennsylvania, Jury Chair
Stewart McKenzie, senior associate, Environmental Design Associates, Somerville, Massachusetts
Rod Marler, director Design + Place, Panuku Development Corporation, Auckland, New Zealand
Domenica Stasiak, senior project manager, Langan Engineering, New York, New York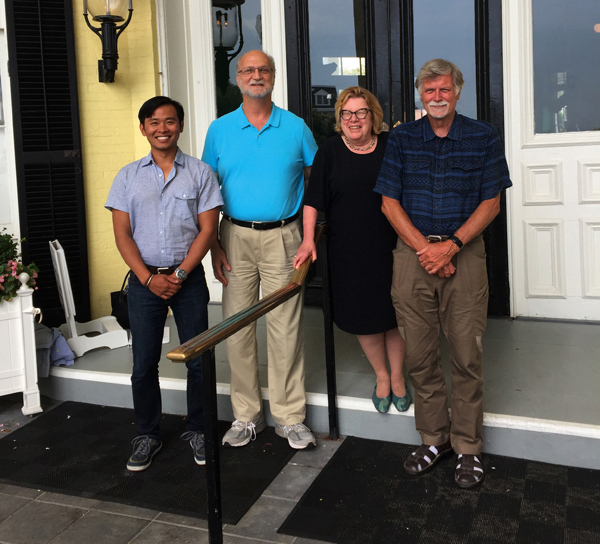 2018 Awards Jury: l-r Michael Sriprasert, Elan Zingman-Leith,
Chair, Donna Walcavage, Mike Houck.
Deadline for Submittal: July 15, 2020
Visit the Center's Website for program details, application forms, criteria and background
HERE
Should you have any questions or need clarification email: waterfrontcenter@gmail.com or call 202/337-0356 or
annelizabethbreen@gmail.com or 202/256-1263.
Awards Presentation and Gala Dinner
2016 Excellence on the Waterfront Winners
The Awards will be announced and presented Friday afternoon, September 25th at the Westin Book Cadillac Hotel in Detroit, Michigan. A reception and a gala dinner will follow.
November 2019 Newsletter
Urban Waterfronts September 2020, Detroit
In early October we took a field trip to Motor City where our good friend, Harriet Saperstein, gave us a grand tour not only of the fabulous riverfront but other parts of this city on the move. We also met with Karen Slaughter du Perry at the Detroit Riverfront Conservancy. The non-profit organization is partnering with us to put together a dynamite convening. We have also made connections with the planner in Windsor, Ontario to make this a true North American gathering. We plan on a Saturday tour there and presentations a main conference.
On tap is also an all-day workshop highlighting the Detroit riverfront by bus and numerous stops along way to hear first hand about the projects and of course, photo ops.
What's there today is the culmination of 40 years of planning and hard work. Read about the latest addition Valade Park, designed by Groundswell, a three-time Excellence on the Waterfront honor award winner.
Alas we only had one day of fine weather but the pictures below give some idea of a few of the installations.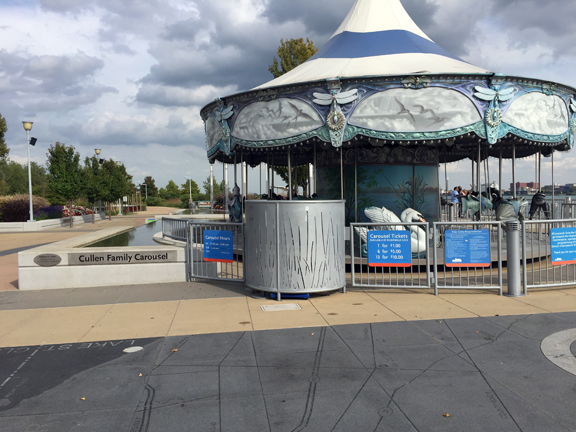 The custom-made merry-go-round, The Cullen Family Carousel, depicts creatures relevant to the Detroit area is a popular attraction and a centerpiece of Cullen Plaza.
One portion of the lengthy and popular RiverWalk we will be exploring.
Harriet Saperstein and Dick Rigby
Charter Waterfront Center board member Harriet Saperstein shows Center co-director Dick Rigby the interpretive panels in the handsome metal shelter in the Milliken State Park Wetlands.
Metal bench provides place to pause and enjoy the river amidst vegetated landscape.
From my long ago 9th grade love of things King Tut and archaeologists' stories, I have always wanted to travel to Egypt. Dick and I finally journeyed there in October to be awed by the ancient wonders and artifacts. The fabulous museum in Cairo -- which is a treasure trove -- will soon be replaced by a huge, very modern building close to the pyramids which is nearly complete (
Heneghan Peng
architects; Patricio Pouchulu, architect). Google the
Grand Egyptian Museum
. Opening set for 2020.
Actually seeing the pyramids, the Sphinx, Abu Simbel, the Temple of Luxor, the Karnak Temple, the Valley of the Dead and so much more you leave amazed at the sheer size of the statues and columns, the intricate carvings and hieroglyphs. My wish list for Christmas includes a good photo book of all these amazing things.
For our waterfront world colleagues, the experience of being on the storied Nile was wonderful. Our Cairo hotel afforded us views of the urban riverscape and cruising on the small ship allowed us to drink in the blue waters, the green shorelines with the desert tan hills beyond that dominate while traveling along it.
Below are some snapshots:
A sighting of a lovely felluca, the traditional wooden sailing boat, found on the river.
Morning sunlight plays along one of the several steep embankments we climbed to take transport to some of the sites.
Ubiquitous blue bags on several trash barges sighted along the river.
One of the colorful vessels, used to ferry visitors from one side the Nile to the other.
A glimpse of the waterfront promenade in Cairo.
Long stretches of the shoreline in downtown Cairo are being refurbished.
Another view from our hotel room shows not only the shoreline improvements, but also the fierce traffic found in the city. Anyone who has ever been to Cairo backs up the observation about the amount of chaotic traffic and the honking horns. Upon arrival it took us 3 hours to make the usual 45-minute ride from the airport due to huge and uncommon rainfall. Unforgettable.
Early morning on the Nile
The view from our hotel room very early morning.
Waterfront Art - Battery Park City in the '80's
Time was when what is now Battery Park City was landfill site covered with sand. Creative Time, an arts organization, stepped in to be, well, creative. A
recent article
(11/ 7/19) in The New York Times featured the work of conceptual public artist Agnes Denes whose work will be included in a retrospective at The Shed in New York City. Her 1982 two-acre installation Wheatfield - a Confirmation was, to say the least, a bit incongruous on the New York waterfront. Denes planted, cared for and harvested the crop.
Agnes Denes New York City Wheatfield
One of the best lines in a July 1, 2019 New York Times
article
("At the foot of the Twin Towers A Beach that Time Forgot" by Jeff Giles, page A 18) was that the "Statue of Liberty finally got to see some amber waves of grain". This article reminded me of wandering along that 'beach' with Dick years ago and I found a photo from '82 in our archive of the iron-rod sculpture of "Lizzie and Gaffer Hexam"by David Saunders.
"Lizzie and Gaffer Hexam"by David Saunders
America's Most Endangered Rivers - 2019
The non-profit organization American Rivers has been publishing the ten most endangered rivers for decades and we'll share the 2019 list and encourage you to go their
web site
for details. They also named Ohio's Cuyahoga River as the River of the Year lauding its amazing comeback from when it infamously on fire!
he Cultural Landscape Foundation presents:
Landslide: 2019: Living in Nature
TCLF has just published a list of nationally significant sites threatened by climate change most of which involve sea level rise. Their
website
gives fulsome details and background for those wishing to learn more.
TCLF Sites Endangered by Climate Change
The Waterfront Center Awards Movie
| | |
| --- | --- |
| The Waterfront Center has made a movie about the origin and workings of a digital search engine that can scan the Excellence on the Waterfront awards collection | This tool stores text and images about the projects and plans that have won Waterfront Center awards in the last 32 years |
| | |
| --- | --- |
| These are outstanding international examples of 32 years of waterfront improvements that have changed this…. | |
The search engine stores information about the winning projects in the categories shown below. Queries can be made in any of these categories, by date for example, or location, type, or applicant.
A search for New York, for example, will show all the award winners in New York city or state.
Each of these can be selected to show images, contact information, project description, and jury comments.
September 2019 Newsletter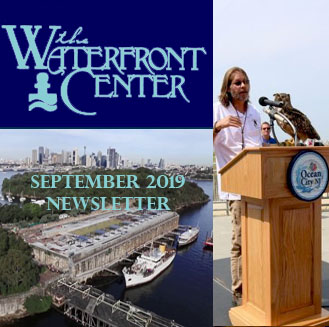 Dog Days are upon us along with more heat so what else but to plow through some languishing piles and discover things.
Good News for Lovers of the Blue Crabs
If nothing can be tastier than a sauteed soft shell or banging and picking your way through a big pile of steams crabs, it was welcome news in that Chesapeake blue crabs are at their most plentiful in seven years. Great news for Mid-Atlantic shellfish lovers.
Grab your little wooden mallets, spread out the newspapers, grab some rolls of paper towel.
Bad News for the Sea Gulls
As summer draws to a close, visitors to Ocean City, New Jersey have been pleased to get reprieve from the aggressive, ever-hungry gulls zooming in on their fries and funnel cakes. To rid the Boardwalk of this annoyance the city hired East Coast Flacons for $2,100 a day to ward off the gulls.
PJ Simonis
, the falconer, walks the boards with his helmeted bird from 10 a.m. to 11 p.m. Along with falcons, hawks and an owl named Ozzy patrol the area and Mayor Jay Gilliam is considering bringing them back next summer saying "...any investment that can protect the quality of life for our residents and guests is worthwhile." An added bonus may be that the gulls have been seen diving for fish in the ocean which may be better for them than fatty fries.
Rail Trails Rolling Along
I am always reminded how the
Rails-to-Trails Conservancy
has grown and how people who enjoy the outdoors mhave benefitted from their good work. If you are not a member, consider joining at $18/yr. and received their well-illustrated magazine
Rails to Trails
that keeps you abreast of trails news. The
July 2019 issue
updated what's happening on the Great American Rail Trail.
This ambitious project will eventually encompass 3,700 miles across 12 states and the District of Columbia. A map accompanying this
piece shows completed portions along with ones still be be connected. One day you can go from Washington, DC to Seattle, Washington.
In early May River Actions staff who were at a meeting, got a phone call alerting them to a foot of water filling their office floor! Kathy Wine mentioned in her
Eddy
editorial that luckily she had boots in her trunk - she mentioned she may keep them there. Needless to say the task of moving everything out and into a temporary office was gigantic. Right now the 35-year old non-profit organization is in temporary headquarters at 736 Federal Street, #2302 and looking forward to moving to the storefront office on River Drive.
Having successfully fought off flood walls several times over the years, they may be facing yet another battle. We'll stay tuned.
A new permeable alley is being installed behind their office. Another great demonstration project.
International Landscape Architecture Prize Announced
The
Cultural Landscape Foundation
, a non-profit organization, based in Washington, D.C. announces the first-ever International Landscape Architecture Prize.
A five-person jury will make the selection to be announced in 2021 of the recipient. The prize of $100,000 will be awarded to a living practitioner.
Another Fabulous Public Space Down Under Black to Green
Well Sydneysiders have done it again! Our Aussie friends never shy from tackling enormous old sites or industrial structures.
Among others, think of these Waterfront Center honor award winners: Darling Harbour ('91), Woolloomooloo Bay ('00), Walsh Bay ('05) and Ballast Point ('10). Check these projects out on our
interactive database
The August 2019 issue of
Landscape Architecture Magazine
has a fascinating and well-illustrated article, "
Tunnel Vision
" by Gweneth Leigh about this amazing adaptive reuse of an industrial relic.
Once known as the Waverton Coal Loader Platform, at the turn of the 20th Century, it was one of the most technologically advanced coal transfer
depots in the Southern Hemisphere. Bulk carriers once unloaded up to 40,000 tons of coal from the enormous elevated platform. The facility could not have been grittier. A less imaginative city council might have wanted to destroy the "eyesore" but this council decided to take a decidedly different tack, transforming the platform into the Coal Loader Centre for Sustainability (the Coal Loader). Located on the Waverton, North Sydney waterfront, the Coal Loader is a place to relax, be inspired, grab a coffee or lunch, learn about best-practice sustainable technology, community gardens, native bush nursery, food gardens, solar panels, regenerated parklands (including a green roof) and a fascinating history. Four long coal transport tunnels serve multiple purposes: storing filtered water; creating space for art exhibitions and laser light shows ; providing a conduit linking to trails in the surrounding area and providing habitat for eastern bent-wing microbats to roost (off limits to the public)
In 2011 the then Mayor of North Sydney, Genia McCaffery said:"The opening of the Coal Loader Centre for Sustainability signals a major milestone in a very long process to save the site for current and future generations. It will now be a place where the community can come together to learn about sustainable living practices, or to simply enjoy the stunning park lands."
We recommend Googling the Coal Loader for all sorts of images of the public enjoying this important new addition to Sydney's waterfront. The views from the top deck are spectacular.
The Waterfront Center 2020 Conference in Detroit
The 33rd International Conference on Waterfront Planning and Development and Culture is planned for September 24-26, 2020. at the Westin Book Cadillac Hotel in Detroit
Co-sponsored by The Waterfront Center and The Detroit Riverfront Conservancy, Detroit, Michigan
September 23 -24. "Showcasing the Detroit Waterfront" all day workshop
July 2019 Newsletter
Save the Date : September 24-26 2020
Urban Waterfronts Detroit, Michigan
We are delighted to announce the convening of the international waterfront community in 2020. See below at the end of this newsletter for more details about the conference hotel and other details. We will also be announcing details about the 2020 awards program later this year.
A New Garden for Belle Isle
So much has happened on the Detroit riverfront since we first knew it 40 years ago and more wonderful things keep happening so we know folks will want to join in the pre-conference workshop on September 24. Our co-sponsors, The Detroit Riverfront Conservancy will be putting together a great program. Besides the new Atwater Beach designed by Groundswell mentioned in our last newsletter, there is another new development on the historic Belle Isle originally designed by Olmsted.
We are crossing our fingers that this new garden designed by Piet Oudolf will be open when we are all in Detroit. Construction of the 2.5 acre site began in June with a completion set for fall 2020. (Piet Oudolf was honored by the Waterfront Center with an Excellence on the Waterfront top honor in 2006 for his work on the Battery Bosque in New York City see photo below).
The design for Belle Isle calls for 25-to-30 percent native plants and includes a picnic area. Total cost is 4.2 million dollars; $150,000 for design, $2 million for installation and $2 million for an endowment.
Piet Oudolf's plan for a new garden for Belle Isle
"Can Gas Tanks be a playground? Dueling ideas for Bushwick Inlet Park" an
article
by Justin Davidson, June 17, 2019
Proposed use of gas tanks for Bushwick Inlet Park
This fascinating article pits the tension between erasure and commemoration that keeps coming up as New York gradually converts its once forbidding industrial shoreline into a green and pleasant buffer. Examples of dramatic industrial artifacts that become beloved icons in the public realm date back to Richard Haag's Gas Works Park in Seattle (Excellence on the Waterfront award winner in 1993) and Tom Balsley's Gantry Plaza State Park (Excellence on the Waterfront top honor winner in 1999) to name a few. Issues of environmental degradation, cost of remediation, neighborhood sensitivities come into play as the sides for retaining the old and those wanting things to come down and start anew debate. Anyone interested in these concerns will find this a must read.
| | |
| --- | --- |
| | Gantry Park State Park, Queens New York |
SHoP Architects and Ken Smith convert Manhattan's Pier 35 that sits on the East River facing Brooklyn into a much needed outdoor space that also doubles as a habitat restoration area including several gardens and a sloping metal screen to be covered with foliage and lighted at night to serve as a beacon.
The project entailed the creation of a beach that will provide habitat for mussels.
Urban Waterfronts 2020 Detroit Conference
The 33rd International Conference on Waterfront Planning and Development and Culture is planned for September 24-26, 2020. at the Westin Book Cadillac Hotel
Co-sponsored by The Waterfront Center and The Detroit Riverfront Conservancy, Detroit, Michigan
September 23 -24. "Showcasing the Detroit Waterfront" all day workshop
| | |
| --- | --- |
| Westin Book Cadillac Hotel,Detroit | Westin Book Cadillac Hotel,Detroit, Interior |
Westin Book Cadillac Hotel,Detroit
An historic hotel in downtown. Westin Book Cadillac Detroit
This 1924 landmark has been restored to its former grandeur.
The Waterfront Center Awards Searchable Database
Just a reminder that you can check the nearly 400 Excellence on the Waterfront award Winners on our interactive database
HERE
June 2019 Newsletter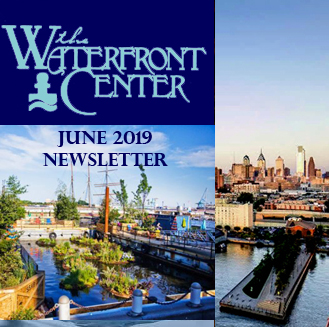 12th Annual Upper Mississippi Regional Conference,
October 23-24,2019 Moline, Illinois
November 15-18, 2019 Annual Conference on Landscape Architecture
San Diego, California
The 33rd International Conference on Waterfront Planning and Development and Culture
September 24-26, 2020. Urban Waterfronts 2020 Westin Book Cadillac Hotel
Co-sponsored by The Waterfront Center and The Detroit Riverfront Conservancy, Detroit, Michigan
September 23 -24. "Showcasing the Detroit Waterfront" all day workshop
Waterfront Phenomenon Keeps Rolling Along...
We shake our heads sometimes since people back in the day 40 years ago couldn't imagine why we were establishing an organization about of all things - "waterfronts." Today waterfront developments, redevelopments and re-dos just keep happening and happening all over the world.
To check in on just three:
Baltimore's Middle Branch Waterfront
Three Proposals for Baltimore's Middle Branch Waterfront
The Parks and People Foundation selected three finalists in a design competition (James Corner Field Operations and Hargreaves Jones, both of New York and West 8 of The Netherlands) who went to Baltimore to meet with residents. They learned people wanted a more peaceful, recreational space as a contrast to the Inner Harbor. A jury will review the proposal and public feedback to recommend a winning firm.
Three Proposals for Baltimore's Middle Branch Waterfront
See: Baltimore Sun, June 3, 2019. "Neglected Middle Barnch Waterfront in South Baltimore is Getting a Facelift" by
Pamela Wood
.
Philadelphia's Cherry Street Pier
Cherry Street Pier, Philadelphia
Opened in 2018, the Cherry Street Pier is a year-round mixed-use public space on the Central Delaware Riverfront waterfront. Built into the shell of a century-old municipal pier, this adaptive reuse of an historical site brings new life and creative community-oriented space with seeming something for everyone to see and do. Check our their summer calendar.
Cherry Street Pier, Philadelphia
If you visit Philadelphia's riverfront stop in at Morgan's Pier and Spruce Street Harbor Park both Excellence on the Waterfront Award winners.
| | |
| --- | --- |
| | Spruce Street Harbor Park |
Still to come a $225-million dollar park that will breach over the 17-lane highway and join the city to the river at long last.
Penns Landing Park, Philadelphia
Delaware River Waterfront Corporation
Design of Riverfront Wetland Park - South Philadelphia
The DRWC requests proposals from qualified interdisciplinary design teams to develop ecologically- and community-centered concepts for a unique riverfront ecological park on the Delaware River |
Read More
Detroit Riverfront Adds More Fun
We are super excited to begin planning for our 33rd conference in Detroit partnering with the Detroit Riverfront Conservancy because there is so much to see and share including Atwater Beach illustrated above, the latest addition to the riverfront. The Conservancy will help with the Detroit Workshop on Sept. 24 where delegates will be given briefings and tours. The newest addition is a 3.2 acre park and urban beach designed by the award-winning folks at Groundswell (see above Morgan's Pier and Spruce Street Harbor Park). Imagination, creativity and whimsy are hallmarks of their work and for this park they will draw on the riverfront's colorful history. A whiskey barge for example is a nod to the Purple Gang, notorious bootleggers who did their fair share of smuggling liquor from Windsor, Ontario across the river.
See: "
Motor City Made
," Landscape Architecture Magazine, LAND, June 2019, pages 28-30.
The Art of the Waterfront
Co-directors Breen and Rigby continue to be hard at work on their book celebrating artworks that are directly oriented to the waterbodies
where they are found. As of early June they have identified nearly 150 works of varied kinds from all over the world. They are also reaching out to publishers.
We'd love to hear from any of you about work you come across: mail@waterfrontcenter.org.
Late May 2019 Newsletter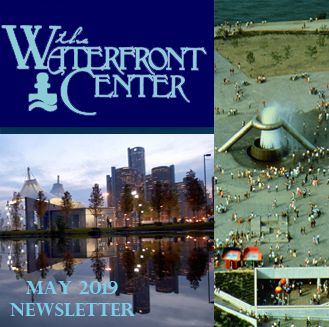 The Waterfront Center is pleased to announce Urban Waterfronts 2020 will take place in Detroit, Michigan. The Detroit Riverfront Conservancy
has agreed to be our co-sponsor.
Westin Book Cadillac Hotel,Detroit
An historic hotel in downtown. Westin Book Cadillac Detroit
This 1924 landmark has been restored to its former grandeur.
Westin Book Cadillac Hotel,Detroit
Dates:
September 23-26, 2020
"Showcasing the Detroit Waterfront" Thursday, September 24 with an optional get-acquainted dinner
Wednesday evening. The Conservancy's Karen Slaughter Du Perry has already put forward some great ideas regarding the workshop.
September 24 - 26, 2020
Opening Exhibitors' and Welcome reception September 24
All-day conference including awards ceremony and optional gala dinner September 25
Half-day conference September 26
Saturday optional afternoon tours.
There will be an optional get-acquainted dinner Thursday evening after welcome reception.
We have decided to offer two simultaneous tracks, plus opening and closing presentations. The awards ceremony will be followed by a reception and optional gala dinner.
Refuge Gateway and Humbug Marsh, Detroit
EXCELLENCE ON THE WATERFRONT 2020
32nd Honor Awards Program
The Waterfront Center Social Media Links
Springtime greetings!! The advent of Daylight Savings Time, daffodils poking their heads and the soft pink blush of cherry blossoms help to herald the coming of Spring!!!
Land and Water Conservation Fund Permanently Authorized!
Well what good news coming out of the Nation's Capital: Yea! After 50 years and helping to create over 40,000 state and local parks, the fund has been permanently authorized. The LWCF is one of the only Federal programs that provides dedicated funds for local and community parks and recreation facilities.
We are in no doubt that there are a ton of installations on our nation's waterbodies that have used these funds in the past. If you are contemplating a waterfront park, this should be most welcome news.
Manayunk Canal in Philadelphia
The Manayunk Canal Aerial
Thanks to Charlie Flynn, formerly of Yuma, who sent
this article
about a great waterfront revitalization close by the Schuylkill River in the City of Brotherly Love, - his new hometown. The history of the restored canal is heartwarming LINK. Once part of the city's gritty industrial past, the area is now booming with lots of mixed uses and recreational amenities.
Some upcoming events to note in your calendars:
Looking ahead and if your spring/summer plans have you traveling, Google some of our favorite waterfront non-profits for their upcoming events:
We recently had the occasion to return to Charleston, S.C. and visit our good friend and former staff member Kathleen Ewing who many of you may remember as a friendly face at so many of our conferences. Thanks to another friend, we got a chance to have a quick visit to the Waterfront Park there -- now very aptly renamed the Joseph P. Riley Waterfront Park. Mayor Riley, who served his beloved community for decades and was one of the nation's best mayors ever. He oversaw the park's creation with such caring attention to every detail - down to the petunias and pebble colors. The park received an Excellence on the Waterfront top honor award in 1994. Revisiting favorite spots is always fraught with a bit of apprehension. We were somewhat taken aback, pleasantly so, at the difference 30+ years makes. Much remains quite the same, handsomely so, but as you can see in the photos: the TREES!!! Below are images that quite vividly show how the park has matured!
Joseph P. Riley Waterfront Park circa 1994
View of the entire park with wetland area in foreground; the T-shaped pier with its shaded pavilion and swings plus the fishing facility at the end; the waterside walkway; the two fountains; the green lawn and the small 'rooms' with benches for informal lounging. We always liked the fact that area adjacent to the water has a robust, maritime feel to it and the area closest to the historic core reflects the quiet charm of this city.
| | |
| --- | --- |
| Centerpiece fountain using the iconic pineapple which is a symbol of hospitality surrounded by pink petunias as it was in 1994 | The Fountain as it is today albeit a rather gray day. |
| | |
| --- | --- |
| In the early days of the park the intimate seating areas were fully visible. | As is obvious from the photos taken recently, you can barely see the seating areas as the trees have so fully matured. Visitors must welcome the fulsome shade in the hot months, not to mention the privacy and quiet. |
The curving walk along the wetlands with graceful benches and robust railings.
More informal walkway gracefully runs alongside marsh grasses.
This 1994 photo shows the two fountains as they were.

Today, the big spray serves as eye-catching focal point at the end of this

beautiful allee of shade trees.
The Waterfront Center on the Internet
February 2019 Newsletter
Happy Valentine's Day to the Waterfront Community
Water and romance go hand in hand. Pictured below is couple taking a nighttime stroll on the over water walkway in Milwaukee featuring details by public artist Mary Miss.
Center co-directors Breen and Rigby have begun working in earnest on a new book – a project they have been wanting to undertake for years.
The Art of the Waterfront
, the working title, will cover the many facets of artistic endeavors found on waterfronts from major public art installations to unique design details. The Center has had a long-term interest in art beginning with a panel featuring Athena Tacha, Bob Irwin and Siah Armajani and a keynote by John Beardsley at their 1984 conference. They will be taking a sabbatical of sorts in 2019 to concentrate on this effort.
If you would like to submit interesting work or yours or projects you know about that might be candidates for inclusion in the book, please send us description and visuals
The Excellence on the Waterfront Awards Program will skip 2019 while co-directors are busy on the book. However, the 31st awards program will resume in 2020 with an early summer deadline for submittals. Stay tuned to the website for details on the deadline for submittals. and 2020 jury members. Meanwhile Stewart continues to add to the interactive databas
We will be posting on Instagram samples of award winning projects and plans and news of Waterfront Center activities. To view our Instagram profile go to https://www.instagram.com/waterfrontcenter1/
December 2018 Newsletter

Happiest Christmas and Holiday Season

to the Waterfront World!

As we all pause to bask in the warmth of family, friends and maybe a little feasting, let's pause to remember all the people who work so very hard on our waterfronts.

This e-letter is a tribute to all the great visionaries and volunteers past and present. As examples we include an account of the Brooklyn Bridge Park along with a bit of historical background. Also, we share the sad news of the recent death of two waterfront pioneers.

To those currently active, may 2019 be the year you achieve consensus, tie up all the loose ends, push your dreams forward, put a a spade in the ground or cut a ribbon!

Brooklyn Bridge Park Is All But Complete

But first, a bit of back story to give readers full appreciation of this achievement. In the fall 1992 issue of Waterfront World we reported:

Former use of the Brooklyn Bridge Park site

The Port Authority of New York & New Jersey recently announced its intention to sell to commercial developers about 80 acres of prime Brooklyn waterfront just south of the Brooklyn Bridge. Local officials and residents have been working for years in hopes of keeping the land for the public. The parcel presently comprises five decrepit piers with warehouses, reported the New York Times. Those fighting to keep the land out of developers hands and thus removed from much of their influence say the Port Authority made the announcement to force a resolution on the land and will appeal to Governor Cuomo to stop the sale. The Port Authority says that it wants to sell the property because the piers need expensive repairs it does not want to make."

As long-standing chroniclers of urban waterfronts including Brooklyn for nearly 40 years we were thrilled to see mention by Michael Van Valkenburgh in the article that follows this bit of history of our dear friend and former Waterfront World correspondent, the late Mickey Murphy. To wit: Van Valkenburgh recalled the words of Mary Ellen Murphy a longtime Brooklyn activist who during a community meeting in the late 90s reflected that she just "wanted to go down to the river at night and put her feet in, watch the moonlight on the water." He said: "That was a paradigm shift in park making...."We realized this park wasn't about scenery; it was about the river."

Another great friend of the Center is Marianna Koval who was executive director of the Brooklyn Bridge Park Conservancy and who along with Mickey and numerous other grassroots folks worked very hard to assure there would be a park for people, not land for developers. The Conservancy - an alliance of approximately 75 civic environmental, business and neighborhood groups - received a Clearwater award in 2000 for their tireless effort. The coalition also sponsored educational programs, working with local schools in order the directly involve young people park planning as well as learning about environmental issues.

Another friend of the Center was the late Olga Bloom who founded the chamber music venue, Bargemusic docked at Fulton Ferry Landing, a close neighbor of the aforementioned Port Authority warehouses.

Below is a photo of Bloom's Bargemusic docked at Fulton Ferry Landing, a close neighbor of the aforementioned Port Authority warehouses.

Olga and Mickey were great pals - in today's parlance BFF's. They were great smokers and in my imagination I see them puffing away on the back deck of the Barge after the performances, looking across the river to lower Manhattan, the lights, the stars and dreaming and scheming together about a beautiful park in place of the port's old piers. Decades later: voila!!!

The

December 2019 issue

of Landscape Architecture Magazine has an exhaustive (pages 72 - 131) and beautifully illustrated story about this fabulous waterfront park on the shores of Brooklyn's East River.

The article's title, aptly describes how this $350 million-dollar, 85-acre park built on six piers and decades in the making offers something, as the title suggests for everybody, not to mention urban wildlife. You name it, respect for its industrial past, public art, imaginative play and recreational areas for kids of all ages, access to the water, performance spaces, educational components, lush and gorgeous planting, use of recycled materials, attention to detail, places for solitude, water features and the list goes on. Kudos to author Anne Raver and all involved putting this varied material together. That includes Melanie Rehak who explains the creation and important role of the salt marsh at Pier 1 to assure sustainability. Bradford McKee who writes about the planting strategy and Haniya Rae who describes the intricacies of softening sound and how geo-engineering helps shut out city noise.

Images of the Brooklyn Bridge Park Pier

Brooklyn-based Michael Van Volkenburgh Associates, Inc were the team leaders and landscape architects with Regina Myer who was president of the Brooklyn Bridge Park Corporation led the effort but as the list of those involved spelled out in tiny type the end of the article, it took an enormous cast to pull off this beautifully executed series of public spaces. If you don't subscribe to the magazine, get this issue for your waterfront library.

Below we share the sad tidings of the loss of two pillars of the waterfront community - who died recently: Marty Millspaugh and Joe

Marfuggi. Both were tremendous friends and supporters of the Center. We offer some personal reflections and links to their obituaries.

Marty Millspaugh. We knew Marty from our earliest days. In fact he was one the the keynoters at our very first conference in 1983 and since there was really no place to hold a snazzy conference reception, he arranged for us to have the top floor of the Trade Center on the Inner Harbor. Our attendees were treated to some really snazzy views of that groundbreaking waterfront. We bussed everyone over. Neophyte conference planners that we were, we hired too many buses, so Dick and returned to DC in splendid isolation on an empty bus! Marty shared his knowledge at other events as well. His beloved Inner Harbor received a few Excellence on the Waterfront Awards including one for the generously wide promenade and the National Aquarium. He was a very gentle, kind person. He came up to us at one of our conferences and told us -- "what you have in this room are the 'doers'. We took that as a very high compliment. Marty, a singular doer himself, left a huge legacy - one that will long be remembered.

His obituary can be found

HERE

Joe Marfuggi. We go a long way back with the Hartford Riverfront. The first director of Riverfront Recapture, Jill Diskan drove us all around what was then a pretty dismal place that she had begun working on. Taking up the cause after her departure, Joe joined the organization and stayed with it for decades.

We love to tell the story of one jury passing over what we considered to be an astonishing waterfront achievement -- only to be given top honor the next year!

That was one of those occasions we had to go out in the hall to hide our disappointment. I excitedly called him when the project won the following year. He did not hear the word "Top Honor" and was floored at the ceremony, bemoaning he had not brought a delegation.

We pressed him into numerous speaking assignments and he served on one of our awards juries. Joe, another extremely thoughtful and kind person,

brought great care and passion to his work. Touring his beloved riverfront with him is a lasting memory - including his stooping to pick up litter!

His obituary can be found

HERE
The Waterfront Center Awards Search Engine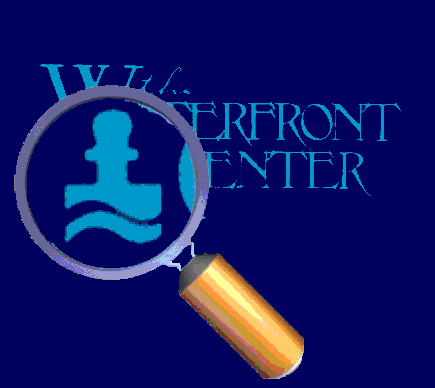 The Waterfront Center has loaded information about almost all the winners in the Excellence on the Waterfront Awards program since 1987 into a searchable database. The 2018 winners have now been added this database. Commentary on the search engine can be found HERE. Queries can be entered into the search engine HERE. To see the 2018 winners enter 2018 into the search window and press enter. To view a project click on the project name. There are 373 awards with project descriptions and contact information and 2,310 images. This searchable collection represents probably the most complete record of international excellence in waterfront planning and design in the last 31 years.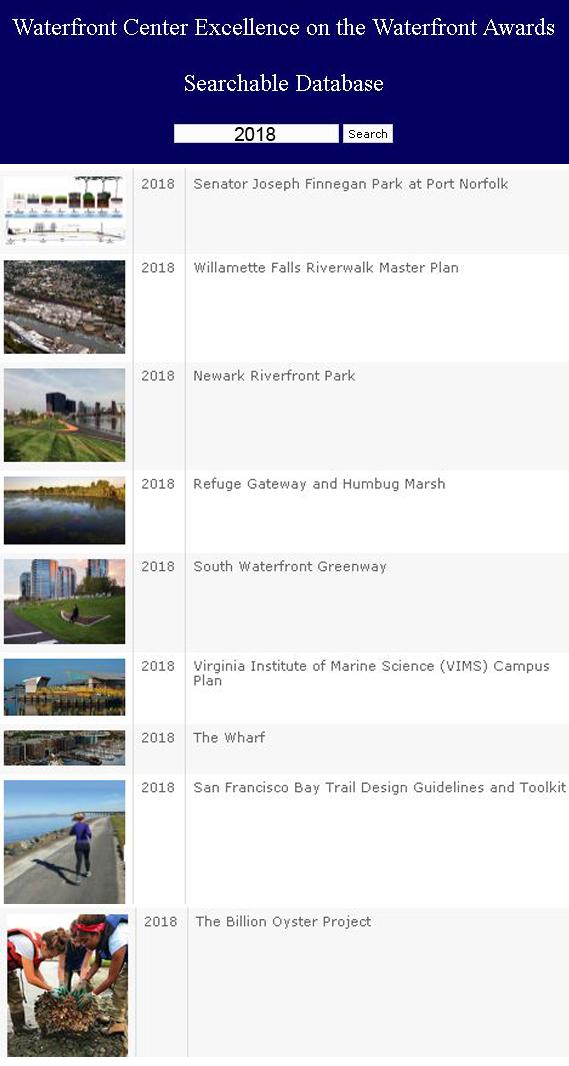 The 2018 Excellence on the Waterfront Award Winners in the Awards Search Engine
The search engine stores information in the following categories: Award Year, Award Category, Project Type, Project Name, Award City, Award State, Award Country, Entrants Names, Award Organization, Organization Website, Contact Name, Contact Address, Contact Phone, Contact E-Mail, Project Description, Jury Comments. You can enter a search in any of these categories. If you enter 2011 for example you will see a list of all the awards granted in that year. Click on the award name of one of the projects and you will see all the information, including images, about that project. If you entered a country, Korea for example, you will see all the awards granted for that country. The search engine also scans the text of the project description and jury comments so if you search for park for example you will see not only the projects categorized as parks but also those that have the word park in their project description or jury comments. To view only those projects categorized as Park awards click on those projects labeled Park in the Award Category column.
Thanksgiving 2018 Newsletter
The Center wishes to thank all of our supporters and friends. Many of you have been with us since 1981! We were on a trip to Morocco
recently (see below) and lo and behold one of our fellow travelers, Stu Turner, who lives and works in the Hudson Valley, knew us! Over the nearly 40 years we have been lucky to meet hundreds of incredible people.

Special thanks to our right hand, Stewart McKenzie, who works his
magic from up in Somerville, Mass. If you want to see all info related to the 2018 awards winners - another great crop, go
HERE
. Thanks to all the presenters at the September 21st Ceremony.
2018 winners of the Excellence on the Waterfront Awards
2018 awards booklets for sale and a nod again to Chris Carlson and Steve Durrant for producing yet another splendid edition.
Stewart continues to add to our interactive database, a unique resource for anyone involved in waterfront work. Over 400 entries can be searched.
The search engine can be accessed
HERE
We also want to thank once again Donna Walcavage and Steve Durrant and Chris Carlson for nominating us for ASLA Honorary Membership. Donna and Steve are pictured below along with photo of the 2018 group.
L-R: Dick Rigby, Donna Walcavage, Steve Durrant, Ann Breen
ASLA honorary members 2018
In late September we took off for a trans-Canada adventure - mostly by train. Waterfront-wise we saw lots of lakes, swamps and wild and scenic rivers. We caught a glimpse of the Forks on the the Assiniboine in Winnipeg from the train window but our biggest delight was to venture to Granville Island and discover that it was still the same fabulous place as it was when we first discovered it almost 30 years ago. We feared it might have changed drastically. But no, it remains its same vibrant, funky self - all that vernacular, industrial architecture, lots of color, the same signs for the public market and Bridges. The cement plant still very active and its trucks mingling with everyone and everything - a continuing example that working waterfronts, mixed use and public realm can go-exist. I am only sorry I did not have my phone to take pictures. Phone and purse slipped out of my lap in the dark in a cab in Toronto. However, miracles happen, a friend called the phone, the cab driver gave her his number and I reached out to friends - all of whom were willing to help. My thanks to Michel Trocme and his able AA, Anastasia, at Urban Strategies. Phone and purse safely returned.
On November 1, we flew to Paris and Casablanca. Morocco -- a dream fulfilled for Dick. Wonderful trip, incredibly varied scenery, ancient cities fabulous architecture - lots of beauty everywhere. We covered a lot of ground mostly by bus.This is not an urban waterfront aficionado's perfect destination. We only got a brief hint of Casablanca's enormous mosque on the oceanfront. We got a taste of Rabat's shoreline along the Bouregreg River from the Casbah and spotted Zaha Hadid's Rabat Grand Theater under construction. Architect's rendering is pictured.
Zaha Hadid's Rabat Grand Theater
However, we did struck gold in seaside Essaouira, once a famous hippie hangout. The beach along the bay is expansive and the wide beach and walkway well-used by bikers, runners and strollers.
The nearby active port will soon be joined by a new pleasure boat marina (under construction), but the real gem for those who relish the working waterfront is the fishing port. Ann left the group to wander about and spent about two hours taking in the sights and sounds of this historic, very active wharf replete with fishmongers, boat repair and the ever-present squaks of the ubiquitous gulls. Despite the drizzle, the dampness underfoot and the need to dodge the moving carts and trucks, I hope the following images show why I was entranced. This place has patina in spades. I doubt even the old South Street Seaport and Billingsgate fish markets-- although large and very colorful in their day - would top a morning in Essaouira.
September 2018 Newsletter
Announcing 2018 Excellence on the Waterfront
A PARK ON THE NEPONSET RIVER IN BOSTON AND A MASTER PLAN FOR WILLAMETTE FALLS IN OREGON CITY, OREGON, WIN TOP HONOR AWARDS
The 2018 "Excellence on the Waterfront" awards program, organized by the non-profit Waterfront Center for the past 31 years, recognized six built projects and two plans for Honor Awards. Also chosen for a Clearwater Award recognizing grass-roots efforts was the Billion Oyster Project in New York. Selected from 40 entries, the awards were chosen over a day-and-a-half by a jury led by Donna Walcavage, principal with Stantec of New York. The jury met at Congress Hall in this seaside resort.
2018 Awards Jury: l-r Michael Sriprasert, Pittsburgh History and Landmarks,
Elan Zingman-Leith, Historic Preservationist, Cape May, New Jersey,
Chair, Donna Walcavage, principal, Stantec, New York, New York,
Mike Houck, Urban Greenspaces Institute, Portland, Oregon
Winners will be recognized at a half-day awards ceremony in Washington, D.C., home of the Center, on Sept. 21. After presentations by the winners, there will be a reception and dinner. Each winner is given 20 minutes to describe their project or plan. Go
HERE
for more information and registration.
• Top Honor Project.
Senator Joseph Finnegan Park
at Port Norfolk, Boston, Massachusetts. Submitted by Iris Lin, Halvorson Design Partnership, and Dan Driscoll, Mass. Dept. of Conservation + Recreation, both Boston, Massachusetts.
Senator Joseph Finnegan Park at Port Norfolk, Boston, Massachusetts.
• Top Honor Plan.
Willamette Falls Riverwalk Master Plan
, Oregon City,
Oregon. Submitted by Laura Terway, Metro and City of Oregon City and
Carol Mayer-Reed, Mayer/Reed Inc., Portland, Oregon.
Willamette Falls Riverwalk Master Plan
Honor Awards/Projects in alphabetical order.
•
Newark Riverfront Park
, Newark New Jersey. Submitted by Weintraub Diaz Landscape Architecture, Nyack New York., and The Trust of Public Land, Newark, New Jersey.
•
Refuge Gateway and Humbug Marsh
, Trenton and Gilbraltar, Michigan. Submitted by John Hartig, Fish and Wildlife Service, Grosse Isle, and A. Hicks, Hamilton Anderson Associates, Detroit, both Michigan.
Refuge Gateway and Humbug Marsh, Trenton and Gilbraltar
• South Waterfront Greenway, Portland, Oregon. Submitted by Chelsea McCann, Walker Macy, Portland, Oregon, and Thomas Balsley, Thomas Balsley Associates, New York, N.Y.
South Waterfront Greenway
•
Virginia Institute of Marine Science (VIMS)
, Wachapreague, Virginia, Campus Plan. Submitted by Donna Phaneuf, VIA design architects, Norfolk, and Dr. Richard Snyder, VIMS, Wachapreague, both Virginia.
Virginia Institute of Marine Science (VIMS)
•
The Wharf
, Washington D.C. Submitted by Mathew Jahromi, Hoffman Madison Waterfront, Washington, D.C., and Justin Wolf, Perkins Eastman, New York, New York.
•
San Francisco Bay Trail Design Guidelines and Tool Kit
, San Francisco Bay (Nine Counties), California. Submitted by Lee Huo, Association of Bay Area Governments, San Francisco, and Patrick Miller, Landscape Station, Berkeley, both California.
San Francisco Bay Trail Design Guidelines and Tool Kit
•
The Billion Oyster Project
, New York State. Blyss Buitrago, Community, Stewardship and Engagement Manager, Governors Island, New York. Submitted by Michael Fishman.
The Billion Oyster Project
2018 Jury
Chair, Donna Walcavage, principal, Stantec, New York, New York
Mike Houck, Urban Greenspaces Institute, Portland, Oregon
Michael Sriprasert, Pittsburgh History and Landmarks
Foundation, Pittsburgh, Pennsylvania
Elan Zingman-Leith, Historic Preservationist, Cape May, New Jersey
The City of Biloxi Hires Center Co-directors Breen and Rigby In early September Breen and Rigby will return to Biloxi after to work with the mayor and city officials and help them with various waterfront sites. To get the conversation going they will share examples of waterfront work from around the world in a tailor-made power point presentation.
July 2018 Newsletter
EXCELLENCE ON WATERFRONT AWARDS
JULY 16 DEADLINE - TWO WEEKS TO GO!!!
ENTER TO WIN AND BE RECOGNIZED.
SEE BELOW.
The American Society of Landscape Architects
Announce their 2018 Honors
Co-directors Ann Breen and Dick Rigby were quite surprised and thrilled to learn that they have been elected to be honorary members of ASLA and will be recognized during the 2018 annual conference to take place in October in Philadelphia. To quote from the press release: "Honorary membership is among the highest honors ASLA may bestow upon non-landscape architects in recognition of notable service to the profession. Since its inception in 1899, ASLA has inducted only 223 honorary members." We are quite humbled to be in such esteemed company. The other new honorary members are: Carol Ross Barney, Phillip Enquist, James Garland, Dan Gottleib, Carolyn Mitchell and Michael T. Reynolds. For more details on honorary membership and as well as others receiving various honor awards go
HERE
We wish to sincerely thank Steve Durrant, Donna Walcavage, Chris Carlson, James Brennan, Michael Krieger, Joel Mills, Carol Mayer-Reed and William Wenk for nominating us and writing supporting letters.
Go to
HERE
for more info on the ASLA 2018 National Conference.
Whole Lot of Art Going On!
Anyone who has been around the Center knows that we have been advocates for art and culture on the waterfront for many years. Indeed, it is our aspiration to start work a book on the subject this summer. We are always excited to learn of new work being installed. You may find these stories of interest.
photo credit: New York Times
Chelsea Waterside Park in New York welcomed two cow heads (formerly facade ornaments on the Butchers' Dressed Meat Company, a 1919 building that was demolished in 1991). The busts will play a mere supporting role in the new playground designed by Michael Van Valkenburgh Associates. Art Deco-style winged carvings that once adorned entrance ramps to the West Side Highway are additional saved artifacts. The main attraction is a colorful, 64' long rendition of a pipefish that wraps around a tower with a spiral ladders and includes a water slide wide enough for two people. The pipefish "sculpture" pays homage to real 8-inch long pipefish that are among the nearly 60 species of fish found in the lower portion of the Hudson River.
"A Long Cattle Drive Ends, at a Chelsea Playground" The New York Times, June 24, 2018 by Jane Margolies. See
HERE
Hong Kong's New Victoria Dockside
Victoria Dockside, a $2.6-billion project, is perched at the tip of Kowloon Peninsula is a three-million-square-foot endeavor. New World Development is transforming the area into a modern art and design district along with a host of mixed uses and an upgraded public realm.
Two American firms have been involved: James Corner Field Operations and Kohn Pedersen Fox Associates. The recently-opened shopping mall, K11 Musea is considered the crown jewel of the project. According to Mr. Adrian Cheng, the general manager of the mixed-use project, the 10-story Musea doubles as a a museum by the sea and a museum of muses. The Musea will house art exhibitions, live music, creativity workshops and other cultural events. For a fulsome account of the Victoria Dockside visit
HERE
for Kathy Leong's story and the website:
31st Excellence on the Waterfront Awards Program
Selections made by independent, interdisciplinary jury. Winners receive worldwide publicity and are featured on our interactive Web Site.
DEADLINE for submittals (20 images and two-page narrative) must be postmarked by July 16, 2018. Open to built projects, comprehensive plans and citizen actions as well as students.
See
HERE
for entry details. Awards announced on Friday, September 21 at afternoon program and ceremony in Washington, D.C.
Optional awards dinner. Details on Web site.
Happy Fourth of July week to one and all!.
Summertime is in full swing here in Cape May. We share a New Jersey bayfront view my two little granddaughters were taking in. Wish you fun and relaxing times with family and friends.
Early June 2018 Newsletter
We recently had the occasion to visit Newport, one the country's great sailing capitals and happened upon a relatively new project called the Shipyard, not far from the heart of the downtown waterfront and close to a fabulous collection of Colonial buildings. The handsome logo shows the care and thought that went into this well-designed facility.
At once a heavy-duty maintenance and repair yard/pier along with offices, commercial facilities and a small restaurant named "Belle," the project offers generous and inviting public realm. Past the guard house at the entrance is a very large shed adorned with names of boats with the very handsome "Gladiator" perched out front.
The next huge building has a mixture of uses with the restaurant at the very end of what is termed the "Dockwalk," which allows for public access around the whole facility including inviting and attractive protected seating areas where you can eat, hang out and enjoy the view. Note the simple addition of a painted pattern that dresses up the macadam.
FISHERMEN'S COOP ON LONG WHARF
Adjacent to the Shipyard is a pier devoted to the fishing industry, the Fisherman's Coop. From here we were able to get a good view of the Shipyard's massive lift where serious repair is going on.
Besides housing the fishing fleet, a very popular Lobster Shack and seafood market were attracting crowds.
EXCELLENCE ON THE WATERFRONT AWARDS DEADLINE JULY 16, 2018
As we peruse the periodicals, the web and the newspapers, we have spotted a lot of great work out there. Visit our
web site
to
read about the award program, criteria and also dip into the
interactive database
to get a look at nearly 400 winners since 1987.
Winners are invited to the September 21 ceremony, mini-conference where they discuss their projects, reception and gala dinner as Center guests.
The non-profits mentioned below offer all sorts of interesting and educational events. Visit their web pages/calendars to learn more.
Summertime, Summertime and there is a lot of fun to be had on waterfronts! Below a small sample:
July 4 - Bubbly and Fireworks, Houston, Texas. Buffalo Bayou Park click
HERE
and check our their calendar
have joined forces to bring together an interdisciplinary group of scholars and practitioners to discuss strategies for designing water from the small scale to integrated regional systems. visit: designingwater.org for more details.
Charles River Conservancy News. The Conservancy's founder, Renata von Tscharner, is set to retire this summer. The Conservancy has named Laura Jasinski as the new executive director. Read about Renata and Laura on the
Conservancy's web site
:
Early May 2018 Newsletter
May come up with water wheels
May come up with flowers
May come up the same again
The same again but different
May IS a special month enchanting us with the beauty of nature emerging anew.
"Those who contemplate the beauty of the earth find reserves of strength that will endure as long as life lasts. There is something infinitely healing in the repeated refrains of nature -- the assurance that dawn comes after night, and spring after winter."
― Rachel Carson, Silent Spring
Center Celebrates 37th Anniversary
On a beautiful spring day in 1981 - May 1 to be exact - co-founders Breen and Rigby formalized the paperwork establishing the non-profit Waterfront Center. Some skeptics couldn't believe we could have an organization about waterfronts! Well, the certified global phenomenon has proved them wrong.
We would like to thank and recognize all the people who have supported the Center over the years: those who attended one or more of our 34annual conferences, submitted plans or projects to the Awards program (now in its 31st year), hired the Center and its teams to help with participatory planning and developing concept plans. We have been privileged to meet literally thousands of individuals working of rivers, lakes, bays, oceans, canals and streams throughout the world.
Waterfront transformations are not easy and we salute the hard work, determination and patience of the many who are involved in these complicated, worthy endeavors. Ours is an educational organization and we hope many have benefited from our newsletters, books and other forms of communication. Sincerest thanks also to the various members of our staff and interns over the years.
In the March 26 issue of The New Yorker, a fascinating article about Rachel Carson is definitely worth a read. Carson notably famous for her groundbreaking Silent Spring published in 1962 without which we might not have all the environmental protections we have enjoyed for nearly four decades (think Clean Air and Water Acts; National Environmental Policy Act and the Endangered Species Act). More's the pity what we witness going on in EPA today!
Jill Lepore's piece about Carson not only succintly renders biographical detail but, important for waterfront folks, describes her love of the sea. She wrote two books still available:
"The Sea Around Us" in 1951 and "The Edge of the Sea" in 1955. She wrote the latter from her beloved cottage perched atop a bluff on the coast of Maine.
She did not live to write the next book she was contemplating about the swelling of the seas. "We live in age of rising seas," she wrote." In our own lifetimes we are witnessing a startling alteration of climate."
Author Lepore concludes her thoughtful profile:
"This spring, in the North Atlantic, not a single newborn right whale has been spotted: the water, it seems, is to warm; the mothers have birthed no calves. The sea is all around us. It is our home. And the last calf is our, inconsolable, loss."
A river trip through the borderlands that Trump wants to fence off
by Nick Paumgarten
The New Yorker, April 23, 2018
This is a river story or more precisely two river stories. In 1977 four Dartmouth undergraduates undertook a four-month adventure to mount an expedition to document their voyage along the two-thousand-mile Rio Grande for the first time in history. The fourth largest river in the United States, the Rio Grande drops out of the San Juan Mountains in Colorado and empties into the Gulf of Mexico near Brownsville, Texas. The river landscape varied from dry river beds (they had to use bikes) to lush tropical flora with riverbanks and wetlands full of wildlife.
Forty years later Bob Reicher, one of the original canoeists from Dartmouth, decided to put together another journey along the Rio Grande to not only celebrate the fiftieth anniversary of the Wild and Scenic Rivers Act (this act now covers more than 12,000 miles of rivers and streams). The trip was also a response to Trump's wall. Dan Reicher, a board member of American Rivers, teamed up with Bob Irwin, president of the non-profit advocacy group. American Rivers for the first time since 2003 placed the Rio Grande among the ten most endangered rivers. Joining Reicher, Irwin and the author of this article were 20 intrepid souls and four guides. Democratic senator from New Mexico, Tom Udall, and Theodore Roosevelt IV brought strong conservationist lineage to the assembly.
Among the many facts our reporter Paumgarten brings to our attention:
• The wall would go on the American side of the river a good distance from the banks.
• It would seal the United States off from the river and cede it to Mexico.
• it would cut people off from their property and wildlife from the main source of water.
• Ninety-three listed or proposed endangered species would be adversely affected.
• Hundreds of miles of inhospitable desert terrain border both sides of the river.
• Additionally a hundred miles of deep canyons cut through it - far more prohibitive to immigrants than a slab of concrete or steel. Paumgarten wryly points out the canyons don't require Congressional funding!
The story is chock full of historical and cultural anecdotes, the lure and life style of river trips, colorful characters and reflections by paddlers on the wall. When Bob Reicher reflected on his youthful journey he turned to Heraclitus with a quote that is no doubt applicable to all such trips:
"No man steps in the same river twice, for it is not the same river and he is not the same man."

31st Excellence on the Waterfront Program
Get your waterfront project/plan worldwide recognition!
The winning entrants and their project or plans:
• are announced at a ceremony in Washington, D.C. on September 21, 2018 attended by practitioners like yourself;
• opportunity to give a presentation of your undertaking, with images;
• are celebrated at a champagne reception that follows;
• are treated to a gala dinner in a private room for winners, jurors and past winners;
• are included in a special illustrated 16-page booklet that you receive with your certificate;
• are featured on the Center's website showing images of the ceremonies and the winners accepting their awards, and
• are also included on the Center website's interactive database depicts the nearly 400 + projects that have won awards since 1987 – a unique resource freely available to anyone interested.
Your award is then announced to the following:
• The Center's press list of 600+,
• An e-mail list numbering in the thousands,
• Included in a special e-blast devoted to the 2016 Excellence on the Waterfront award winners.
Entering is simple: a two-page narrative that addresses judging criteria and 20 images. That is all that is required! Additional information such as articles, endorsement by local officials, additional photos are welcome. Full details and entry form on our Web site
HERE
DEADLINE: POSTMARKED BY JULY 16, 2018!
An interdisciplinary jury of varied geography and city sizes will convene in Cape May, N.J., in July. They will spend a full day-and-half reviewing the entries and selecting a limited number of winners. In most years, a Top Honor project and Top Honor plan are picked.
Urban Waterfronts '86 - Finale Presentation
Folksinger Larry Long from Minneapolis leads attendees group round circle in singing "Farewell My Friends". Show left to right: Rick Wiederhorn, then with City of St. Paul, unidentified woman , Breen and Rigby.
Center Board meeting aboard Bargemusic, below the Brooklyn Bridge in 1987
Left to right: the late Olga Bloom, founder of Bargemusic; Ellen Dawson; Chuck Davis, president, EHDD, Barry Hersh, currently at New York University, Doug Sethness, CH2M; Barbara Kauffman, currently Newark Renaissance, Stu Dawson, principal, Sasaki Associates, Watertown, Massachusetts; Michael Krieger, then with the Port Authority NY&NJ, Joe Schachter, Concrete Flotation Systems the late Mickey Murphy, citizen activist and Willem Polak, Potomac Riverboat Company, Alexandria, Virginia.
CBS Interview Summer, 1994
Dick Rigby and Ann Breen being interviewed for CBS's Sunday Good Morning America show on the Baltimore waterfront. More precisely on a Fells Point Pier. Note the City Pier in the background the location for the TV show Homicide. The building and pier have recently been completely renovated into a spiffy new hotel complex by Under Armour.
1994 Interdisciplinary Awards Jury in Cape May, NJ
Standing left to right: the Honorable Bill Norrie, then mayor of Winnipeg; Deb Dietsch, then editor of Architecture magazine; the late Barry Young, urban designer, Sydney, Australia, Keimi Harada, architect, Tokyo. Seated left to right: Jennifer Bartlett, staff volunteer, directors Breen and Rigby and staff member Susan Kirk
Clearwater Winners at the 2005 Conference
The Clearwater award is given to grass roots individuals and organizations for their contributions to their waterfronts. The six winners who were on hand in Portland pictured left to right: Kathy Wine, River Action, Inc., Quad Cities, Iowa and Illinois, Holly Ewald, Pawtuxet Village Voices & Vistions, Pawtuxet, Rhode Island, Sandy Threlfall, Waterfront Action, Oakland, Calfironia, Marianna Koval, Brooklyn Bridge Park Coalition, Mayor Koichi Sueyoshi, Women's Battle for Blue Skies and Clean Water, Kitakyushu, Japan, the late Sylvia McLaughlin, Citizens for East Shore Park, Berkeley, California and Mrs. Sueyoshi.
25th Anniversay Gala Dinner at Pier 4 on the Boston Harbor
Mr. Fumihiko Tanaka, director, water environment section, Kitakyushu, Pratap Talwar, Thompson & Associates, Boston; Charlotte DeWitt, International Festivals, Boston, Akiko Kinoshita, Owls Ltd., interpreter joined by the Mayor of Kitakyushu and his wife.