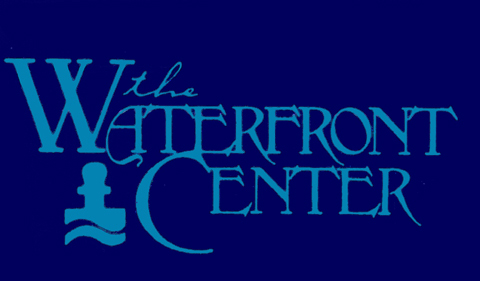 Printer Version
The Waterfront Center announces winners of the 2011
"Excellence on the Waterfront" Program
Click here to see the 2011 Awards Presentation
The Excellence on the Waterfront Awards Program was initiated in 1987 with grants from the National Endowment for the Arts Design Arts Program and the National Marine Manufacturers Association. The honor awards were developed to recognize top quality design and development work. Entries are accepted from around the world for comprehensive plans, built projects and student work. The Center also recognizes citizen's efforts through a Clearwater Award named for the non-profit group of that name working to clean up the Hudson River in New York.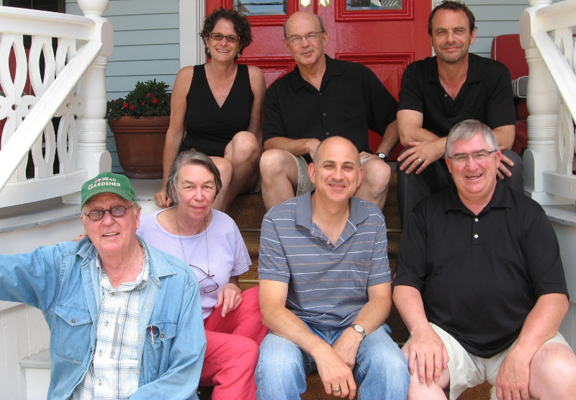 2011 Awards Jury
Top Row: Nicole Faghin, Peter Kuttner, Bradford McKee
Bottom Row: Center directors Dick Rigby and Ann Breen (who do not sit on the jury), jury chair, Jonathan Goldstick and Kent MacIntyre
Opening Comments by Jonathan Goldstick, Jury Chair
The Waterfront Center is a remarkable organization. Led by Ann Breen and Dick Rigby for nearly 30 years, the organization advocates for a truly holistic approach to waterfront development – one that ultimately serves the best interest of the public.

Ann and Dick have devoted their professional lives to providing a forum in which community leaders, designers, planners, developers, and others - all of us - can come together to explore the potential that waterfronts have to regenerate our communities, restore our civic realm, and revive our cities… our spirits.

The Awards program, now in its 24th year,is an annual international awards program intended to highlight projects that celebrate waterfronts as a community resource– whether focused on primarily Civic Commercial, Residential, Environmental, or (usually) some combination. It's about sound planning, it's about design, but it's really about celebrating waterfronts and their potential in renewing our communities.
The criteria for granting awards are:
1. Sensitivity of the design to the water
2. Quality and harmony of design
3. Civic contribution
4. Environmental values
5. Enrichment – cultural richness
6. Degree of Difficulty - engineering, public participation, permitting.
There are a number of types of award:

* Student Award
* Clearwater Award
* Honor Awards for Plans and Projects
* Top Honor Awards

The Top Honor Awards are for both projects and plans that the jury deems to be exceptional. This year's jury granted two Top Honor Awards – one for a Plan and one for a Project.

There were 54 projects and plan entries received this year of which only 10 have received awards.

What were some of the trends and observations?

Observation #1 - Each jury is different. The competition is tough and many outstanding projects are not selected. Although each entry is evaluated in accordance with the six criteria that I discussed, each jury is different, and each entry is reviewed with a collective open mind. In fact, four of this year's winners are re-entries that had not been selected in previous years.

Observation #2 – There has been an increase in "daylighting" projects of all sizes. Two widely different places exemplify this. One is a new creek replacing a buried culvert and becoming the centerpiece of the revitalization of a small city. The other is a new canal that is a public amenity in a city of over ten million people.

Observation #3 – Geographic Diversity. There are several New York winners, reflecting both the high level of activity on the New York City waterfront as well as the presence of our conference here. However, the geographic range of winners is broad, as always, and large projects were not favored over smaller ones.

Observation #4 - Reuse of old industrial sites. The design of these projects celebrates and draws on elements of our industrial heritage . The jury felt this is an important message to waterfront communities where, in some cases, the temptation is to erase the industrial past.

Observation #5 - A final, highly unscientific, observation. Virtually every one of last year's entries featured beautiful photographs of children enjoying themselves in or at the water. These shots were far less prevalent this year, a trend that we are at a loss to explain.
For each winner, an entrant and co-entrant are listed, usually the project/plan sponsor and lead design firm. For Clearwater citizen's awards, the recipient and nominator are listed. The 2010 awards are listed by category. The project statements and jury comments for each award are posted. A link to Google Maps showing the location of projects is provided.
2011 Waterfront Center award winners
Top Honor Awards

Top Honor Plan

• Room for the River Waal, Nijmegen, The Netherlands

Top Honor Project

Top Honor Plan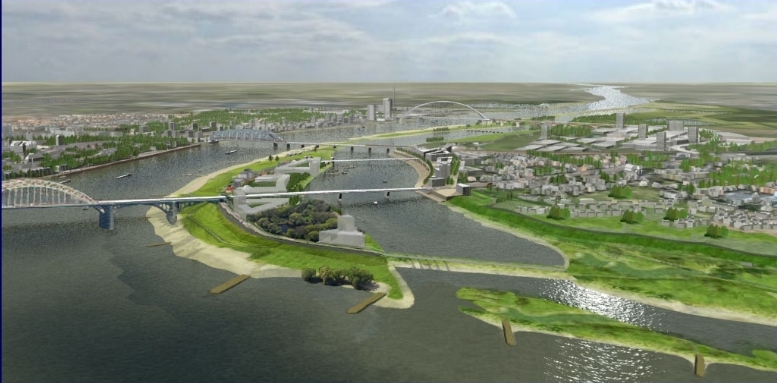 • Room for the River Waal, Nijmegen, The Netherlands
Entrants: Marten Hillen, Royal Haskoning, and Lucien Koridon, Municipality of Nijmegen, both Nijmegen, Netherlands
Project Description
The Dutch began building dikes and levees to control flooding 800 years ago, because 25% of The Netherlands is below sea level and 25% more is subject to flooding. But the 1993 and 1995 floods, which resulted in $300 million worth of damage and the evacuation of 250,000 people, spurred a reassessment of flood control strategies. Whereas the Dutch would once have responded to flooding by building their dikes higher, in the late 1990s they realized that flood risks were only going to intensify with climate change.

In 2007 the Dutch government approved a new $3.3 billion strategy for dealing with flood threats called Room for the River. The strategy will reduce high water levels in the Rhine, Meuse, Waal and Ijssel Rivers. By 2015, these rivers will be given more room at 39 locations, using a variety of strategies. The strategies are:
* relocating dikes further inland to widen floodplains,
* modifying dikes in certain areas to allow for flooding
* lowering floodplains because accumulated sediments have made them shallower,
* reducing the height of groins to allow water to flow more quickly
* creating side channels as alternate routes for high water
* deepening the river bed
* removing obstacles from the river that obstruct flow, and
* creating temporary water storage areas.

In places where it's not possible to create room for the river, dikes may be heightened and strengthened, though incidences of dike slumping and land subsidence will likely increase if dikes are made taller and thus heavier. Room for the River, which will also improve the environmental quality of river areas, will eliminate 3,163 acres of agricultural land and increase natural land by 4,576 acres.

This plan describes in detail the strategy for making room for the River Waal at the Nijmegen, the oldest city in Holland.
Jury Comments
"This plan is about moving things forward and setting and example for the world."
"Involved the community in a highly technical engineering solution."
"Shows that they are willing to make bold moves in the oldest city in The Netherlands."
"Solved their problem in cooperation with neighboring countries so that this solution does not cause other problems elsewhere."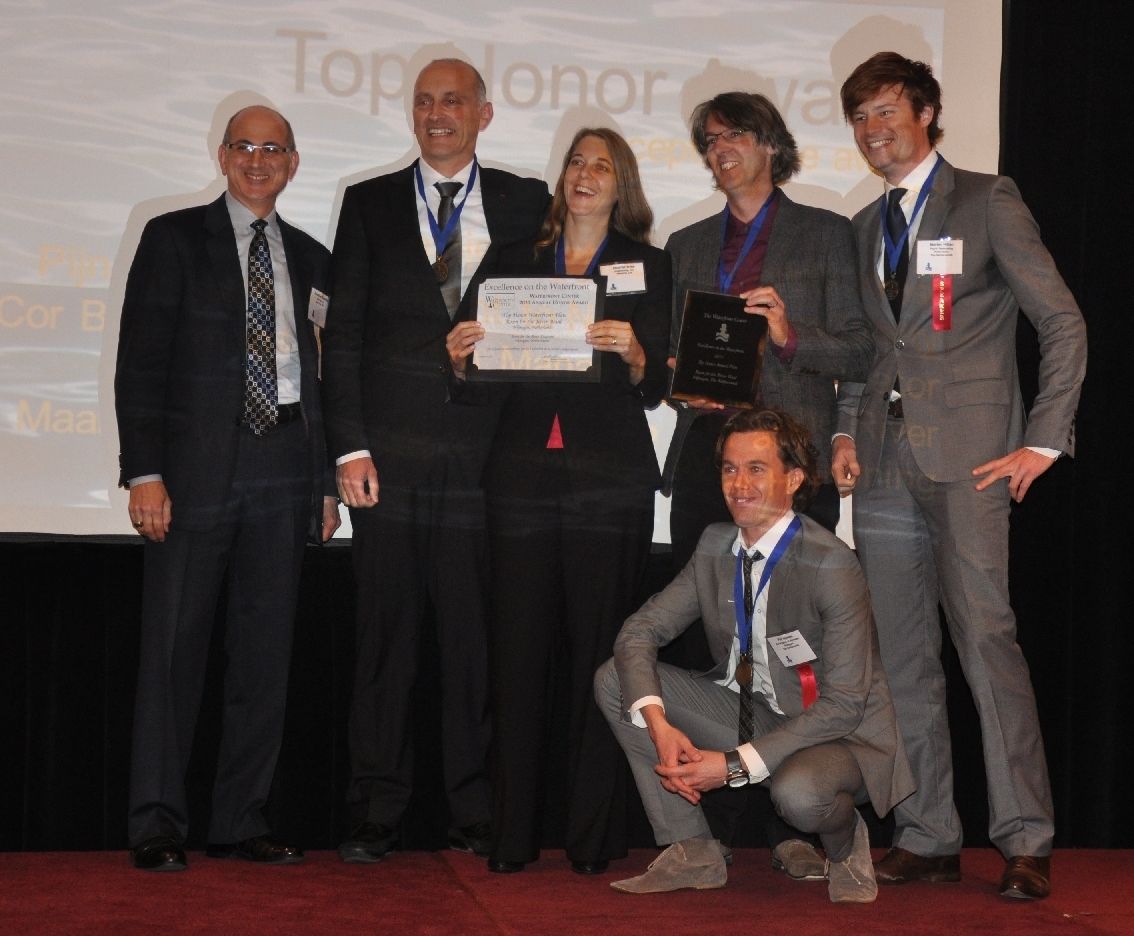 Mathieu Schouten, Pim Nijssen, Cor Beekmans, Maartje Wise and Marten Hillen receive the award
Top Honor Project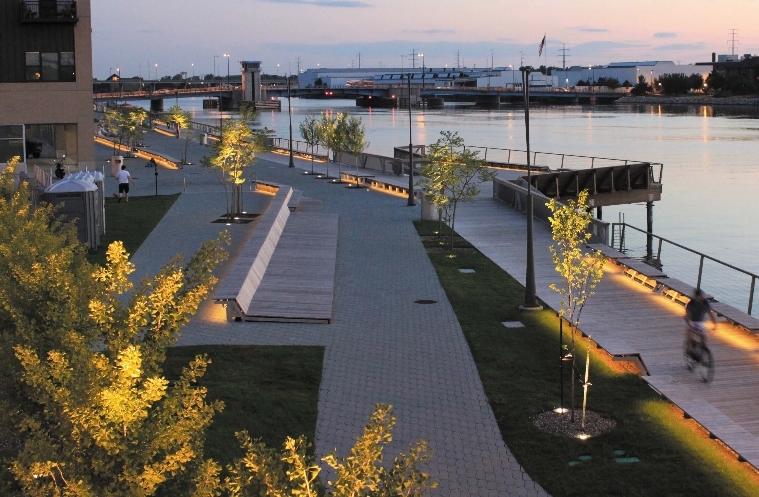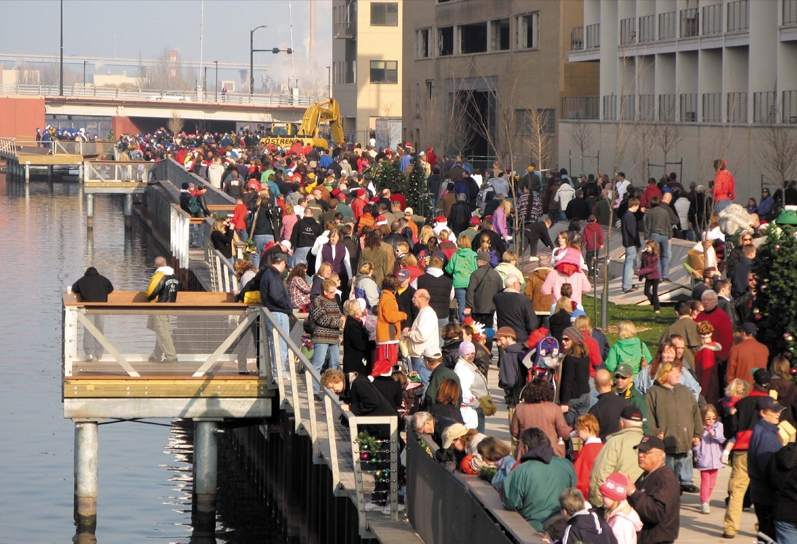 Entrants: Chris Reed, Stoss Landscape Urbanism, Boston Massachusetts and Ed Weisner, City of Green Bay.
Project Description
The project reclaims a former brownfield site on a downtown riverfront at the center of civic life for this city of 100,000 people. The site presented a number of challenges including contamination, a bulkhead that had been built at different times with different foundations and tie-backs, a high groundwater table, and – in winter – ice floes.

By establishing a range of different gathering areas for small and large events and for everyday use, the CityDeck attracts and flexibly accommodates a wide range of residents and visitors, reconnecting the city to the once-vital and still life-giving natural resource – the Fox River.

Design solutions were developed to accommodate he varying bulkhead elevations and geometries that included a the wood surface to fold up and over the bulkhead at the north end, rising to a dramatic overlook. A plaza space has been provided that is suitable for vendors and festivals, with an informal amphitheater. A play fountain marks the southern end. CityDeck is the scene of major programming activity that includes "Fridays on the Fox" during the summer and "Dine on the Deck" Wednesday lunches.

CityDeck has stimulated construction of an apartment building with street-level retail, a condominium, a new bank headquarters/office building with a mixed-use project under construction at the time of the submittal that will contain apartments, offices, restaurant cafes, as well as a children's museum.
Jury Comments
"An ambitious project on a short, narrow parcel."
"They riff on the niches in so many interesting ways."
"The irregularity is just so nice."
"If it were in my city, I'd go there all the time."
"I love the way the benches grow out of the ground."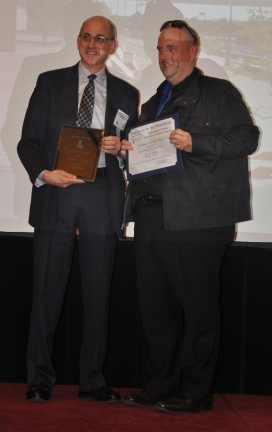 Chris Reed receives the award
HONOR AWARDS:
Category: Student Award

• Stormwater Reclamation Project in Coupeville, Washington
Entrants: Leslie Batten, MLA 2011, University of Washington. Faculty advisors: Nancy Rottle, associate professor of landscape architecture, and Ben Spencer, assistance professor of landscape architecture.
Project Description
This student award is for a thoughtful, detailed stormwater reclamation project in Coupeville, Washington, presented as a thesis for a landscape architecture master's degree program at the University of Washington. A basin-wide approach was taken, not just on-site runoff, and varied public amenities are woven into the project.

The concept incorporates wetlands to clean the water as it passes through and below passive recreation areas. A second level of treatment is provided by a dock for a mussel aquaculture project in which mussels naturally filter the water. Signage explains stormwater treatment processes and waterfront ecology.
Jury Comments
The project demonstrates that public facilities can be woven into a water quality/habitat restoration project using innovative, research-based design.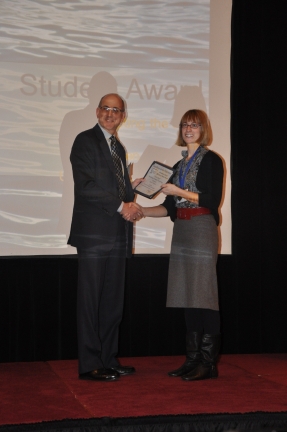 Leslie Batten receives the award
Category: Clearwater Award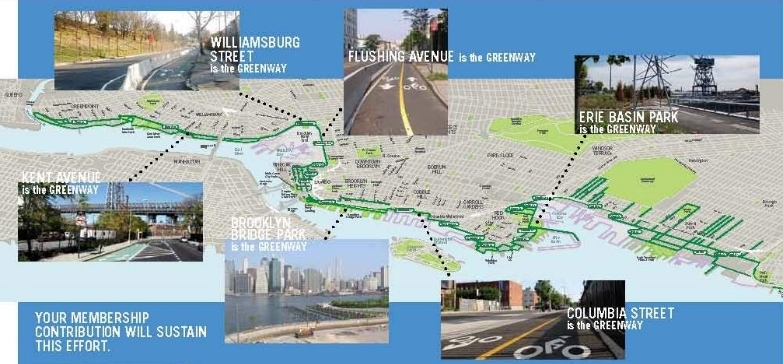 • The Brooklyn Greenway Initiative
Presented to Meg Fellerath, Brian McCormick and Milton Puryea, Brooklyn, New York.
Nominated by Robert Pirani, Regional Plan Association, New York, New York.
Project Description
The "Clearwater Award" recognizes the outstanding efforts of an individual or individuals, or of a non-profit citizen's organization, working at the grassroots level for the betterment of their community and its waterfront. The award is named for the Clearwater organization that has worked for years to clean up the Hudson River in New York. The grassroots group's program founded by Pete Seeger includes environmental education, advocacy and an annual River Revival Festival.

When the three volunteers recognized here first came together in 1998 with their vision for a 14-mile greenway, the Brooklyn waterfront was significantly derelict and public access was restricted to the ends of a few streets. In 2004, they founded and incorporated the Brooklyn Greenway Initiative as a New York State non-profit organization to plan and coordinate the development of the greenway – a planned 14-mile continuous landscaped route, physically separated from traffic with separate paths for pedestrians and cyclists. They have used three successive rounds of funding from the New York State Environmental Protection Fund, each sponsored by the Brooklyn Borough President's Office, to work with its partners to complete the conceptual planning for the entire route, as well as to publish design principles and a stewardship plan.

The Brooklyn Greenway Initiative is a true grass-roots organization, relying on a large group of citizen volunteers to achieve tangible results while always working on the bigger picture. In 2008, the NYC Department of Transportation agreed to sponsor the federal funding, coordinate the master plan, and build the 14-mile greenway. BGI has coordinated the right-of-way assemblage, public agency coordination, consensus building and initial federal funding for the first 10.5 miles of the Greenway, from Greenpoint through Red Hook. They received planning assistance from the Regional Plan Association and assistance with funding from a local Member of Congress. An interim route is already one of the most popular bike paths in the city, and permanent construction is slated to begin in 2014.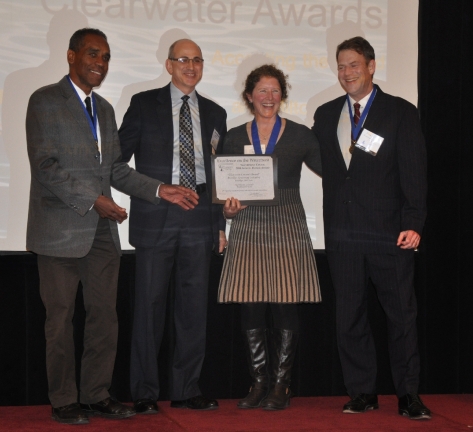 Meg Fellerath, Brian McCormick, and Milton Puryea receive the award
PROJECT HONOR AWARDS:
Category: Park/Walkway/Recreational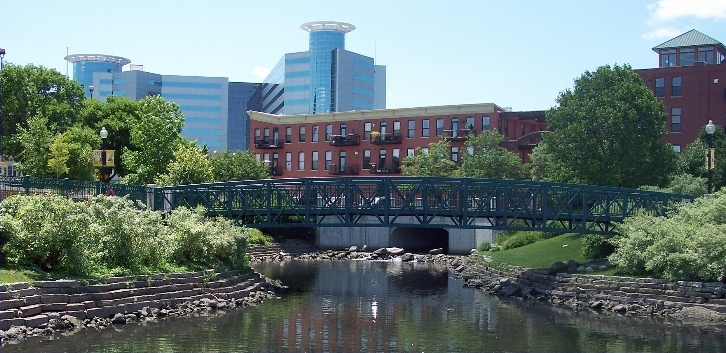 Arcadia Creek Linear Park and Festival Site, Kalamazoo, Michigan
Entrants: Eric W. Lyons, LLA, ASLA, O'Boyle, Cowell, Blaock and Associates Inc., and Steve Deisler, Downtown Kalamazoo Inc., both Kalamazoo, Michigan.
Project Description
Arcadia Creek in central Kalamazoo was buried in a culvert in the early 1900's. The culver, however, proved to be too small to handle runoff from a growing city, resulting in frequent flooding. This, in turn, hurt the nearby neighborhoods, which were crime-ridden, decayed and showing disinvestment. In 1986 a plan was readied to redevelop 13 acres downtown, including a central five-block section of Arcadia Creek. Three blocks are in a new channel designed to withstand a 100-year flood. The other two bocks were transformed into a green linear park.

The next initiative was to remake a parking lot by the creek into an urban plaza capable of holding large festival crowds. For a public investment of $18 million (including $7.5 million for creek improvements), the city estimates that $250 million in private development has followed. One of the outstanding results is that downtown businesses no longer have to pay for flood insurance. Daylighting part of Arcadia Creek has led to the reinvigoration of downtown Kalamazoo, including recreational pursuits, festival events and a bustling business center.
Jury Comments
"Solved a critical hydrologic problem while improving the city center."
"Fabulous public works project that revives the presence of water in the city."
"A creative mix of hard and soft edges."
"A significant investment that is a catalyst for rejuvenating the city."
"A flood control project that revitalized the city."
"A win-win-win project – engineering, design, urban renewal."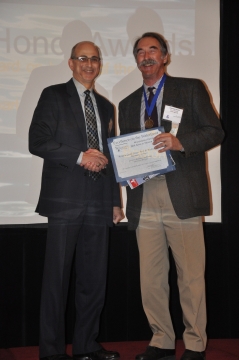 Charles Norris receives the award on behalf of the winners
Category: Artistic/Cultural/Educational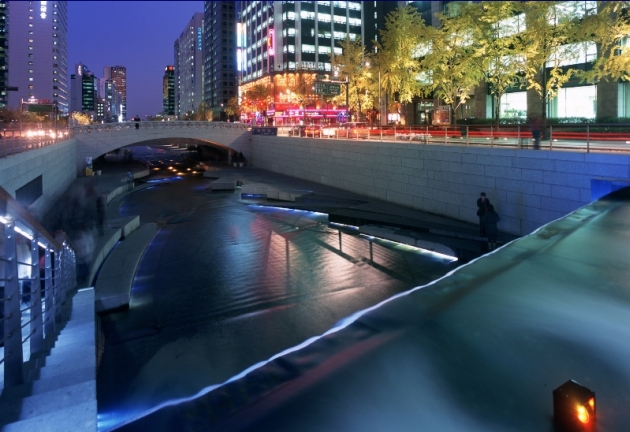 • ChonGae Canal Source Point Park, Sunken Stone Garden, Seoul, Korea.
Entrants: Mikyoung Kim, Mikyoung Kim Design, Boston, Massachusetts. Project manager Raphael Justewicz. In collaboration with SeoAhn Total Landscape of South Korea.
Project Description
This project is located within the two urban superblocks of the Central Business District in Seoul, the main source point of the ChonGae Canal. The design is comprised of individual stone sculptures, symbolizing the future unification of the nine provinces of North and South Korea, and celebrating the source point of cleansed surficial and sub grade runoff from the city.

The stones, from provincial quarries, frame the urban plaza while bringing public access directly to the water's edge. The canal design accommodates seasonal flooding, its appearance changing as stones are submerged and reappear. The work is the capstone of a four-mile highway removal program, one of the most dramatic examples in the world of what has become known as "daylighting." In all, the canal runs seven miles through the heart of Seoul. Where an unattractive overhead highway once divided the city, there now is a charming green oasis, culminating in the Sunken Stone Garden.
Jury Comments
"Dramatic yet contemplative start to a major canal project."
"Love the way it brings people to the water in a hugely urban environment."
"Invites people to interact with the water."
"Built to work through dramatic fluctuations in water levels."
"Allows you to experience and interact with the water in a number of ways."
"Very clever lighting."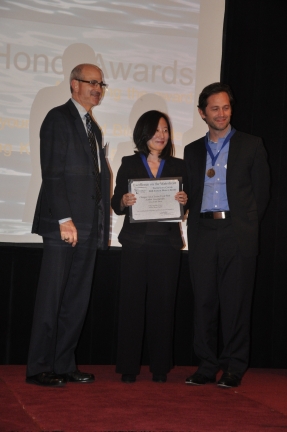 Mikyoung Kim and Bill Madden receive the award
Category: Adaptive Reuse

Before After
• Adaptive Reuse of the Historic Ford Assembly Building
Entrants: Marcy Wong, Marcy Wong Donn Logan Architects, Berkeley, and Eddie Orton, Orton Development Inc., Emeryville, both California.
Project Description
This project transformed the crumbling 525,000 square foot Ford Assembly Building on Richmond's once-decaying industrial peninsula into a glorious public waterfront complemented by flourishing private commerce. Originally designed in the 1930's by architect Albert Kahn as a Ford car factory, the historic edifice was devastated in the 1989 Loma Prieta Earthquake, after which it was abandoned.

Orton Development Inc. and Marcy Wong Donn Logan Architects, transformed a disintegrating hulk into a dynamic center of diverse uses including 250,000 square feet of office space for an array of companies, a 40,000 square foot event venue, a popular restaurant, and a visitor center. The project required insight into both the historic features of the building and the urban waterfront context of the site. Balancing private uses with public space facilitated much needed economic development for the City while also establishing the waterfront as a public amenity.

A design strategy based on small-scale interventions into the existing structure allowed a strong sense of the early twentieth-century industrial waterfront district to be preserved. The project also incorporates sustainability through high energy efficiency, the use of green materials, solar energy, and sustainable landscaping. Funding sources include: Orton Development, FEMA, and the Richmond Redevelopment Agency.
Jury Comments
"Just owned its adaptive re-use category."
"Historic preservation that created a whole new community resource."
"Impressed with how the magnificent waterfront aspects were designated for public use."
"A dramatic public space with beautiful waterfront vistas looking out to San Francisco."
"Preserves the vernacular of the industrial waterfront."
"Demonstrated a respect and pride for the work that preceded them."
Sandy Threlfall, Executive Director, Waterfront Action, receives the award on behalf of the winners
Category: Commercial/Mixed Use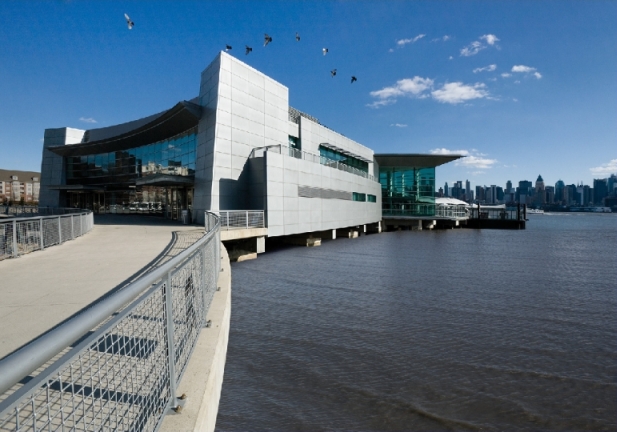 • Port Imperial Ferry Terminal Weehawken, New Jersey
Entrants: Jordan Gruzen, IBI Group Architects, LLP, New York, New York, and Thomas Martin, New Jersey Transit, Newark, New Jersey.
Project Description
Constructed on a concrete platform, supported on concrete piles, approximately 50 feet offshore, the new 33,000 square foot building features a stunning curved glass curtain wall facing Manhattan, walkways, ramps, barges and space for passenger amenities. An 800-foot waterfront pedestrian esplanade provides scenic and convenient access to the terminal.

The first floor, enclosing an area of 21,000 square feet, is devoted to passenger service functions, including: ticket counters, retail shops, a café, restrooms and a waiting room. The second floor contains operational offices and ferry management. The facility will operate 19 hours per day and 7 days per week. The terminal can serve as many as 25,000 passengers each day.
Jury Comments
"A unique, gracious, welcoming design."
"Functional, yet a destination in its own right."
"Better than it needs to be."
"A great example of what a public works project can be."
"An enticement to travel by water."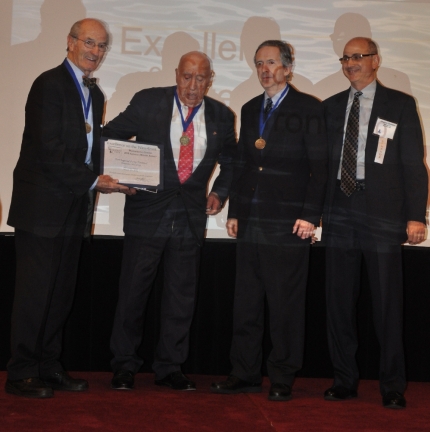 Jordan Gruzen receives the award
Category: Park/Walkway/Recreational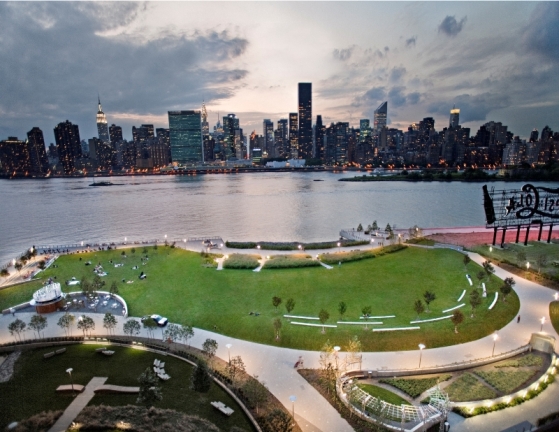 • Queens West Stage II, Long Island City, Queens, NY
Entrants: Terri Lee Burger, Abel Bainnson Butz LLP and P. Januszewski, Queens West Development Corp., both New York, New York
Project Description
Queens West Stage II is an urban waterfront park and infrastructure project situated on a post-industrial waterfront site along the estuarine East River in Long Island City, Queens, New York. With over 2,100 linear feet of frontage on the East River, the new nine-acre public park engages the waterfront and embraces unparalleled views of the midtown Manhattan skyline on either, featuring the UN Complex in the foreground.

The park includes a sweeping central lawn area framed with informal block seating, constructed cove wetlands, a children's play area, kiosk and community garden with a contemporary arbor, trellis and garden shed. The inland park includes a multi-purpose field with built-in spectator seating and a gatehouse restroom building, a picnic grove and an adjacent open lawn area. For seating and lounging options, park users can choose among broad hammocks, Adirondack-style chairs on raised wood decks, chaise lounges, benches and chairs along the esplanade, and moveable café-style furnishings at the vendor kiosk and community garden. A significant aspect of the project was the incorporation of sustainable design strategies that include concrete pavers containing recycled glass, photovoltaic systems on park buildings and a demonstration grey water system.
Jury Comments
"Exceptional park with fabulous views."
"A wonderful children's play area."
"A lovely palette of materials."
"The cove and the circular opening in the deck at the northwest corner are interesting ways to engage the water's edge."
"It's amazing that so much waterfront park land was made available between the water and the buildings."
"I loved the variety of elements peppering the site – especially the red hammocks."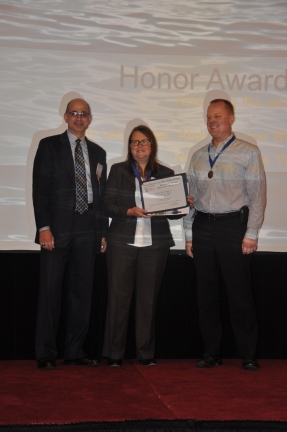 Terry Lee Burger and Abel Bainnson Butz receive the award
Category: Park/Walkway/Recreational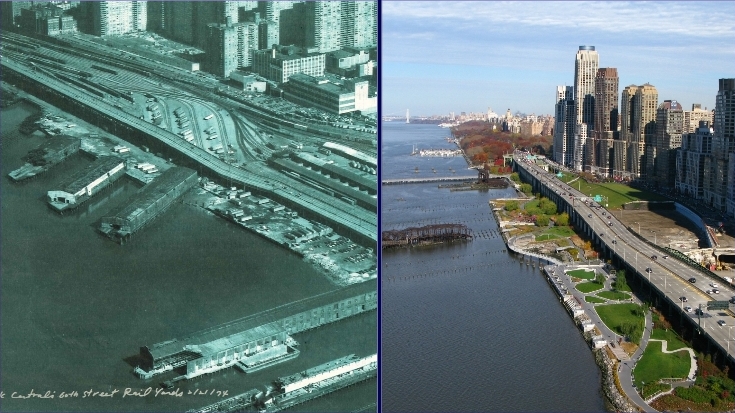 Before After
• Riverside Park South, New York, New York
Entrants: Thomas Balsley FASLA, Thomas Baslely Associates and Charles McKinney, City of New York Park and Recreation Department, both New York, New York.
Project Description
Stretching along Manhattan's west side on the site of a former rail yard, Riverside Park is the last link in the continuous riverfront connection from Battery Park to 125th Street. The park design approach emphasizes and celebrates the special historic and ecological aspects of the water's edge, enriching the public experience and appreciation of this unique site. The combination of piers, esplanades, bridges, boardwalks and get-downs offers park visitors a unique Hudson River experience. Riparian habitats flourish beneath the preserved historical piers and gantry that still stand in the waters as silent sentinels to the site's industrial past.
Jury Comments
"A wide variety of experiences along the waterfront."
"A fun variety of furnishings."
"Fun individual overlooks."
"A unique integration of conversation nodes."
"Provides a fun way to change elevations."
"Weaves a diversity of experiences along its length."
"Excellent planting design."
Category: Environmental Protection/Enhancement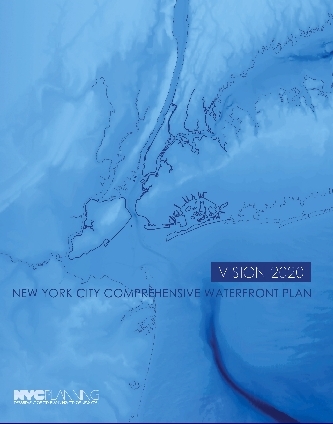 • Vision 2020 New York City Comprehensive Waterfront Plan
Entrants: Amanda M. Burden FAICP, Commissioner, Department of City Planning, New York, New York
Project Description
On March 14th, New York City announced the release of Vision 2020: New York City Comprehensive Waterfront Plan, a ten-year vision for the future of the city's 520 miles of shoreline. This plan provides a sustainable framework for more water transport, increased public access to the waterfront and economic opportunities that will help make the water part of New Yorkers' everyday lives.

Vision 2020, led by the Department of City Planning, is the culmination of a year-long participatory planning process involving multiple agencies and organizations and input from New Yorkers in every borough. Building on the City's success in opening miles of previously inaccessible shoreline to the public, and supporting expansion of the maritime industry, Vision 2020 sets the stage for the expanded use of New York City's waterfront for parks, housing and economic development, and looking to the waterways for transportation, recreation and natural habitats. The ten-year plan lays out a vision for the future with new citywide policies and site-specific recommendations.

City Planning Commissioner Amanda M. Burden explains, "Our water is the connective tissue between our boroughs and is, in effect, our Sixth Borough. We are now planning for our waterfront and waterways with the same intensity and passion that we have traditionally planned for our land."

Accompanied by maps, charts and illustrations, the 190-page waterfront plan – led by the Department of City Planning – presents specific strategies for improvements for each of the City's 22 Reaches – a nautical term for a stretch of waterfront – covering 520 miles of shoreline that borders rivers, the Atlantic Ocean, inlets and bays, as well as active port areas, residential neighborhoods, wetlands and public open space. It was developed after a year-long public process that engaged New Yorkers throughout the five boroughs and yielded recommendations for every stretch of New York City's waterfront, as well as for the waterways themselves. It builds on the City's recent success opening up to the public miles of shoreline that had been inaccessible for decades, and supporting expansion of the maritime industry.
Jury Comments
"Most ambitious document reviewed."
"Great analyses."
"An enormously accessible document."
"A credible plan, because some of this is already happening."
"A SMART (Specific Measurable Attainable Realistic Timely) plan that describes a very livable city."
"A huge challenge to pull together so many disparate plans."
"It's a plan to make the City more livable for every day New Yorkers."
"It actually addressed active living strategies."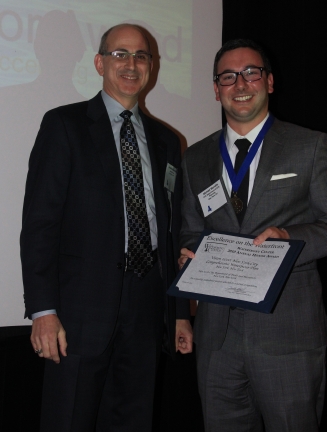 Michael Marella receives the award

Ann Breen and Dick Rigby are the co-founders and co-directors of the Waterfront Center, organized in 1981.
For additional information and photographs, contact:
Kathleen Ewing
The Waterfront Center
PO Box 32129
Washington, DC 20007
202-337-0356 Fax: 202-986-0448
© 2007 The Waterfront Center
Content and photographs on this site may not be reproduced without express permission from The Waterfront Center.